Covid-19 has changed the world, and signs of this transformation in the property market have been stark. This was clear from the Law Society's 19th National Property Conference, delivered entirely online for the first time this month.
Opening the conference, Warren Gordon, senior professional support lawyer at CMS Cameron McKenna Nabarro Olswang and chair of the Society's Property Section committee, noted that 'the pandemic has presented many challenges for the property market'. Residential property practitioners are 'under immense pressure' as a result of the eight-month stamp duty land tax holiday introduced in July, while 'the constraints placed on all of us' by the restrictions have created 'a huge amount of additional work', he said.
The event took place against a backdrop of 'an uncertain market' – the SDLT holiday expires on 31 March 2021 and the furlough scheme was due to come to an end at the end of the month (it was subsequently extended for a further six months from 1 November). Adding to the uncertainty are new planning reforms which are the subject of judicial review, Gordon pointed out. 'Rights: Community: Action' brought a challenge in August against government changes to the permitted development rights and the Use Classes Order that came into force at the end of the same month.
Come 31 December, the moratorium on forfeiture of commercial leases for non-payment of rent may also expire (it was extended for a second time on 30 September). So, too, the restrictions on service of statutory demands and winding-up petitions imposed by the Corporate Insolvency and Governance Act 2020.
Gordon said firms of all sizes will also need to 'come to terms with new technology' as well as 'a plethora of new regulations'.
However, on the positive side Covid-19 has also brought forward innovation, such as electronic signatures and digital identity checks. 'The Land Registry has done more in this regard in the past few months than it has done in a decade,' Gordon noted.
Key themes explored at the conference ranged from the impact of the pandemic on property transactions and how technology is affecting the operation of the market, to promoting greater diversity and sustainability. Panellists also compared the current state of the residential property market with previous recessionary periods. Practitioners are 'frantically busy', but is this just 'a temporary bounce' following the shutdown in March? And with international investors returning to London, was Brexit still 'a big deal'?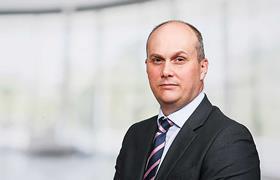 Lucian Cook, head of residential research at Savills, emphasised 'the pace at which the market has bounced back' since the lockdown (agreed sales in September were up by almost 200% on September 2019).
Contrasting the effects of and reactions to the Covid-19 crisis with the credit crunch of 2007/08 and the recession of the 1990s, Cook argued that an important difference was 'a low price growth' in the decade leading up to the lockdown. Furthermore, the government took 'swift action to protect jobs and household finances' including the introduction of tax incentives, while the Bank of England cut interest rates to new lows. But he warned against a 'potential cliff edge' at the end of the SDLT holiday in March.
Increased social distancing will reaffirm changing housing needs and priorities, and lifestyle changes will ultimately depend on the search for a vaccine

Lucian Cook, Savills
Lifestyle change
What is also different is the extent to which the experience of lockdown has put 'pressure on lifestyle changes', he noted. In a July client survey by Savills, 74% of respondents said that Covid-19 had caused them to reassess their work-life balance, with 39% stating 'significantly so'. According to 62% of respondents the amount of garden or outside space had become more important, while 56% said that they were more inclined to work from home regularly in the future. Also, a 'village location' was more attractive to 48% of respondents, increasing to 54% for those with school-age children.
This is reflected in the geographical spread of new deals, with the 'strongest levels' of activity to be found in such areas as London's 'hinterland' and 'wealth corridor', as well as north Devon, and north Norfolk and Wales.
To what extent have agreed sales translated into transactions? There is 'a growing backlog of agreed deals' and a significant lag between such deals and mortgage approvals and completed transactions, according to Cook, who said completions must be achieved by Christmas or the end of the SDLT holiday period.
Looking forward, factors to consider include the 'massive distortion in the market' created by the SDLT holiday and surcharges, and the expectation that interest rates will remain low for the foreseeable future. 'Increased social distancing will reaffirm changing housing needs and priorities,' and 'lifestyle changes will ultimately depend on the search for a vaccine,' Cook added. He also noted that 'the wider tax environment may act as a drag on future price growth'.
Cook warned that economic pressures and Brexit will 'make it difficult to sustain the current momentum'. He predicted 'strong transaction activity' in Q1 2021, then 'something of a fall away' from Q2 onwards. Agents forecast 4% house price growth (and 1.059 million transactions) this year but Cook said that 'can't be sustained in 2021'. Prices are predicted to stay flat in 2021, and to grow by 20.4% between 2020 and 2024. The market has also become more weighted towards cash-funded buyers and equity-rich movers.
Asked about fall-through rates, Cook said these have not increased and are currently at around 20% across the market. Further, there seemed to be no indication that the market was heading towards a housing 'bubble' since it remained 'relatively price-sensitive'. More concerning was mortgage affordability due to unemployment and tax incentives expiring next year – hence 'pressure' on the government to extend the SDLT holiday.
Justin Marking, head of global residential at Savills, said prime markets have been 'dogged by taxation and political uncertainty since 2014, and this has particularly affected prime central London and country house values'. Both, he said, were 'left looking good value in the run-up to Covid-19' with the country house market benefiting from 'a rural renaissance'.
Rural and village houses are still below 2007 values (-5.5%), as are manor houses, which are almost 15% cheaper than in 2007, and are 'a real buy' at the moment, he said.
'London looks incredibly competitive,' he added, comparing the ultra-prime residential value per sq foot in June 2020 ($3,100) with that in June 2014 ($5,600). This now compares favourably with cities such as Hong Kong, Tokyo, New York and Sydney. In terms of overall transaction costs (for $2m properties), London compares well with many locations including Madrid, Paris, Berlin, Cape Town and Vancouver. This has led to the 're-emergence of international buyers', although international travel restrictions were still holding back the central London market.
'We remain incredibly busy,' said Marking, adding that viewing – mostly virtual – is up 49% compared with pre-lockdown levels.
The effects of Covid-19 have also been noticeable in commercial property, although many of the trends were pre-existing. Jess Harrold, deputy legal and professional editor at Estates Gazette, said: 'There has never been a better time to be in the sheds game. The same changes in consumer habits that have been devastating for physical retail have left the logistics sector as the big winner, playing a vital role in turning those online clicks into home deliveries.'
In the market for offices, the 'days of commercial landlords handing over space for 25 years and watching the money roll in have largely disappeared', says Harrold. 'Occupiers now demand increased flexibility within leases to better react to shifts in both customer demand and economic fluctuation,' he said, pointing to the 'sharp' reduction in average lease lengths over the past decade.
'Tenants approaching their break date or the end of their lease now will no doubt be putting major thought into what their office requirement will be as we emerge from this pandemic,' he said.
'In some ways it is fortunate that we face this pandemic in 2020 – imagine if it had happened while we were all still on dial-up. But we have proven that the widespread provision of technological infrastructure is there to enable home-working and remain a major part of our lives.'
Will that mean the end of the office? Harrold thinks not: 'If it is unlikely that people will return in the same numbers to spending five days a week, 9am to 5pm, and the days of hot-desking are over, so they may have a smaller footprint,' but we may also 'see a transformation of office spaces becoming more spacious'. Furthermore, there will be 'more emphasis on collaborative space'.
Not all about Covid
The UK should aim to be net zero on all greenhouse gases by 2050, the Committee on Climate Change (CCC) recommended last year. To achieve this the real estate sector will have its part to play, since the built environment contributes around 40% of the UK's carbon footprint, and it is expected that direct government support for the sector will be introduced over the coming years, Harrold pointed out.
Since the Black Lives Matter protests, the sector has had to ask itself searching questions about racism. Institutional racism in the property market is the norm, according to the latest EG's race diversity survey published earlier this month: 81% of BAME property workers said the sectors had failed to attract people from non-white backgrounds, while 39% of white respondents reckoned racism was not an issue. The industry also remains 'one of the worst-offending industries' in terms of its gender pay gap.
As the industry grapples with the impact of the latest crisis, unsurprisingly the C-word replaced the B-word at this year's event, notwithstanding lingering concerns about the future of UK real estate after the end of the Brexit transition period on 31 December. For Harrold, British real estate 'still enjoys a global pull that should endure'.
In particular, 'high-quality fit-for-purpose and increasingly innovative buildings and an accommodating tax regime contribute to the UK's reputation as one of the leading places to trade in the world', he concluded.
Marialuisa Taddia is a freelance journalist
The National Property Conference was sponsored by Thirdfort, Moore NI, Amiqus, 360 Law Group and FCS Compliance