As we await the Ministry of Justice's annual report, Melanie Newman canvasses practitioners about how the department is performing
The low down
Covid-19 has exposed a legal system sorely lacking in resilience – a decade of austerity and 'making do' was hardly good preparation for lockdown. There was already a backlog in criminal cases. Confusion surrounds legal aid funds the MoJ says have not been invoiced by practitioners – where does the £100m figure come from? And across the sector, who is carrying the burden of infrastructure failings? Very often it is overstretched lawyers, doing the unpaid work that has already driven many of their peers to seek employment elsewhere.
'We have a resilient and forward-looking department who work to protect our already world-renowned system and strengthen it,' the then lord chancellor wrote in a foreword to the Ministry of Justice (MoJ) 2019 annual report. In his own foreword, the department's non-executive board member Mark Rawlinson said more or less the opposite: 'The major challenge the ministry has continued to face is that of funding… cumulative financial pressures are a constant focus to the executives … the financial reality has led to a reactive short-term approach to system cracks, constraining their ability to take a more proactive approach.'
A few weeks before that report was published last July, the Law Society issued a press release warning that the criminal justice system was on the brink of collapse and 'undermining justice in countless ways'. And in October, the Commons Justice Select Committee issued its own damning review of the operation of the courts, finding 'powerful evidence of a system in administrative chaos'.
The government responded with a 5% budget increase, but given that the previous decade had seen funding slashed by a quarter, the rise was seen as little cause for celebration. The Bar Council described it as 'a drop in the ocean' that would 'only go so far in restoring a justice system which is falling apart at the seams'. Since then Covid-19 has struck, elevating the issues highlighted by both organisations to crisis proportions.
I do not believe the MoJ has realised the extent of the problem Covid-19 is producing and the way the criminal defence profession may well collapse in a hideously unstructured way

Ian Kelcey, Kelcey & Hall
The courts' response to Covid has won praise for a rapid switch to remote hearings. But summing up the MoJ's overall performance over the past year, Ian Kelcey, head of crime at Bristol firm Kelcey & Hall and co-chair of the Law Society's Criminal Law Committee, says it mirrors what used to appear in his school reports: 'Could do a lot better.' Delays in cases coming to court, court closures and a legal aid review 'which seems to have stalled when, at this time of crisis, it should be accelerated' are his top gripes with the department.
'I am also concerned that the ministry is not aware of what is sometimes happening in its executive agencies, such as HMCTS and the Legal Aid Agency,' he says. 'There is too often a demonstrable lack of joined-up thinking.' As an example he points to a lack of proper consultation before courts reopened given the number of solicitors on furlough.
'I do not believe the MoJ has realised the extent of the problem Covid-19 is producing and the way the criminal defence profession may well collapse in a hideously unstructured way,' he adds.
Andrew Wesley, managing partner of specialist criminal defence practice VHS Fletchers of Nottingham, tells the Gazette that before Covid, the delays in the justice system were 'horrendous' for defendants, witnesses and lawyers.
'Pre-lockdown I was already taking trials 11 months or a year away if the client was on bail,' he says. 'That was on top of up to two years during which the defendant was "released under investigation" before being summonsed to court. I've had cases taken out of the list three or four times due to lack of court time. I suspect part of this was down to optimistic listing practices, but we also had courts closed in Nottingham as the MoJ wouldn't pay for recorders.'
By April 2020 there was a backlog of more than 35,000 criminal cases, which was partly caused by an MoJ decision to cut Crown court sitting days by 15% in 2019/20 in anticipation of a fall in cases that never materialised. In February the government announced plans to increase allocation of Crown court sitting days for this financial year and the next, but the Criminal Bar Association, which has run a campaign highlighting the impact of idle courts, said this was 'nowhere near what is needed'.
On 30 March all but 159 of the 341 court and tribunal buildings in England and Wales shut down for face-to-face hearings because of the pandemic. While remote hearings were set up in some cases, according to the lord chief justice around 1,000 jury trials a month were put on hold. By 8 June there were 184 buildings open, with proceedings slowed considerably by social distancing and cleaning requirements.
Neither is there clarity over when the Criminal Legal Aid review, which began in early 2019, will be completed. After protests from lawyers at an initial completion date of late 2020, the MoJ promised to accelerate work in certain areas. But because of Brexit and election purdah it took until late February for the department to put forward proposals on these 'accelerated items' for consultation. Work on the review was then paused due to Covid, with the deadline for consultation extended from March to June.
If you were to do a survey of our members you would find many people with their chins on the ground

Bill Waddington, Criminal Law Solicitors' Association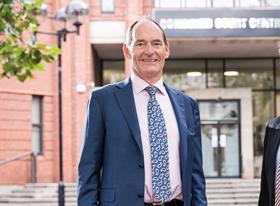 Bill Waddington, chair of the Criminal Law Solicitors' Association and a consultant with Williamsons in Hull, says signing off accelerated payments is a matter of 'huge urgency'. He hit out at the MoJ for the delay in announcing the consultation. 'We were told the delay was due to purdah before the election,' he says. 'It seemed to me that was an excuse for civil servants to do nothing.' Neither does he accept Covid as a valid reason to delay the consultation, saying an earlier deadline should have been set or more money 'put into the system, as has been done for other industries during lockdown. There were presumably some people within the MoJ who were still working', he says.
The extension was necessary during the 'initial chaos of the pandemic', Law Society president Simon Davis says, but now adds: 'The consultation has now closed and we need to see progress on criminal legal aid fees as soon as possible. We have repeatedly warned the existence of criminal defence practitioners is under threat – and with it, the ability of our justice system to deliver fair trials which acquit the innocent and convict the guilty. Criminal legal aid must not be allowed to fall by the wayside. There is no other time to act but now.'
An MoJ spokesperson tells the Gazette: 'We value the insight of stakeholders and frequently seek their advice, such as with the joint decision to extend the Criminal Legal Aid Review consultation. We understand the difficulties facing many in the industry, which is why we have deferred outstanding debts, made it easier to claim interim and hardship payments and reduced the administrative burden.'
In May Waddington, along with the Law Society president and chair of the Bar Council, had argued before the Justice Select Committee that in terms of financial assistance for the sector, the MoJ had not gone nearly far enough, warning of a serious risk of collapse if additional support was not provided. In response justice minister Alex Chalk said there was 'something like over £100m of work' that has been completed but not billed. 'There is money in the LAA ready to be downloaded,' he added.
In Waddington's view this was sheer fabrication: 'We have asked where on earth the £100m figure came from. We think it was plucked out of the air.'
The MoJ insists the figure is accurate.
Dear departed
In May 2019 Swansea-based firm Ty Arian Ltd, which trades under the name T A Law, closed its social welfare law practice, which for 10 years had specialised in housing, benefits and debt cases. Solicitor Helen Williams told the Legal Action Group that cuts under the Legal Aid, Sentencing and Punishment of Offenders Act (LASPO) made it impossible to provide a financially viable social welfare law service.
Ewing Law in Westminster decided in June 2019 no longer to take on criminal legal aid work, tweeting that: 'The attack on legal aid has forced our hand. Public funding can no longer provide the service our clients deserve.'
Lambeth Law Centre (pictured) in south London closed in July 2019, citing 'financial pressures caused by legal aid cuts and increased operating costs'.
The 50-year old Brent Community Law Centre in north London closed in March 2020, saying it had 'been significantly weakened by unrelenting public funding cuts, while demand for its help has grown'.
What is not in dispute is that, pre-pandemic, the number of criminal legal aid practices was already plummeting, with a third of firms having closed since 2010. 'The last figure we had was 1,200 firms and a lot more have gone since then,' says Waddington. 'We are not getting new people into this line of work.'
Law Society data from 2017 showed a mean average age of 47 for criminal duty solicitors across England and Wales. The Crown Prosecution Service went on an £85m recruitment drive at the beginning of the year (as measured by the cost of employing target recruits). Many hires are likely to have come from the criminal defence sector, who jumped at the chance of a public sector pension and other benefits. 'If you were to do a survey of our members you would find many people with their chins [on] the ground,' says Waddington.
The effect of all this is diminished access to justice, with advice deserts opening up in rural areas. 'Wales in particular has a dearth of criminal lawyers,' he says. 'In rural areas access to justice has gone. It's the same with the changes to the legal aid scheme – many people are now representing themselves.'
In February 2019 the MoJ published the department's post-implementation review of the Legal Aid, Sentencing and Punishment of Offenders Act (LAPSO). Carol Storer, interim director of access to justice charity the Legal Action Group, says this was 'thorough and thoughtful'. But what it did not do was tackle sustainability. 'I went to lots of meetings with the MoJ and I never heard anyone at them say the sector was sustainable. All everyone was talking about was the difficulties, the disproportionate amount of unpaid bureaucracy, the fact there are people out there who want to retire and can't because there's no one to take over.'
Storer believes many lawyers will be using the Covid hiatus to plan their exit: 'You're working 10-11 hours a day, you have constant worry, an unhelpful LAA and courts you can't get through to…your working day is so difficult and you're earning such a small amount of money. Legal aid lawyers are often driven by the desire to ensure access to justice but there comes a point where the personal cost is just too high.'
Alongside the review of LAPSO, the MoJ published a 'legal support action plan' which the government describes as a 'new vision' for the future of criminal and civil legal help, including but not restricted to legal aid. The plan included a public awareness campaign about access to assistance. A pilot project was planned: a campaign in the West Midlands on access to housing advice, with the results to be used to convince the Treasury to fund a wider campaign.
But Chris Minnoch, CEO of the Legal Aid Practitioners Group, is unconvinced. 'There is a decent crop of providers in that area,' he says. 'What do you do in the advice deserts? If you raise awareness of support, you create a public expectation that can't be met as every service is already working to capacity.'
Top of Minnoch's wishlist for the MoJ is proper research on civil legal aid needs. 'The NHS gathers huge swathes of data on disparities in health outcomes and tries to map its resources against those needs,' he says. 'The MoJ assumes that supply meets demand,but they've never tried to do any needs-mapping exercises or match demand to supply.'
Services should be tendered based on local needs and the MoJ should be encouraging law centres and firms to move to locations where clients need advice, Minnoch adds. Community legal service partnerships were set up 20 years ago to try to do this, but failed to make much impact. Funding was pulled.
'It was sensible policymaking which produced lots of useful data,' Minnoch says. 'There is a lack of depth and sophistication in justice policy. I've made this point to civil servants and they glaze over. They know it's a huge piece of work and it's not a priority so it will never get through the Treasury.'
In June 2019 the Guardian reported on a 'culture of refusal' at the Legal Aid Agency. A few months later Garden Court Chambers, the LAPG and Public Law Project called a meeting at which an LAA whistleblower revealed that initial appeal decisions were made by the original decision-maker and that some positive decisions were being 'circumvented because of policy'. Following the meeting a number of practitioners called for industrial action.
The MoJ denied the allegations and said the LAA granted nearly all criminal applications and 93% of civil applications in the last year.
'It's a fraught situation,' says Minnoch. Few in the profession trust there will be meaningful change. He points to the government's support package for legal aid practitioners, unveiled in early April, and its later decision to reduce the threshold for hardship payments to £450. 'When you unpick the press releases you soon realise there are few practical positive effects for solicitors, or they are announcing things we already knew they were planning. Providers are under huge stress and have no patience with press releases of rehashed initiatives,' he says. 'And if you look at the MoJ's recent tweets about justice heroes, it's prison officers, probation officers. No mention of the lawyers. Even in a global pandemic the MoJ couldn't come out and say the lawyers are pretty important too.'
As we emerge from the initial lockdown period, the MoJ must replace the 'rigid and overly prescriptive' LASPO regime with a more accessible and affordable legal aid system, that has flexibility to respond to emerging challenges and a sustainable workforce, says Nimrod Ben-Cnaan, head of policy and profile at the Law Centres Network.
A similar challenge awaits with courts and tribunals. 'When even the most ardent proponents of digital transformation urge you to be "modest with change", you know you have moved too far too fast, leaving behind many of the external stakeholders you need to succeed,' he says. 'The urgent task here is to pause, jointly learn the lessons of this period, and recover the accessibility of the courts system to all litigants, represented or not. You can only prove that you have done it by tracking your performance and publishing the results, and this is another area crying out for improvement.'

Melanie Newman is a freelance journalist