Susan Bright, managing partner of Hogan Lovells in London, tells Eduardo Reyes why partnerships are not like corporates and how she likes nothing better than a blank sheet of paper.
BIOG
BORN
Cambridge
EDUCATION
Somerville College, University of Oxford (1984-1987)
ROLES
Articled clerk then solicitor, Lovell White Durrant (1989-1999); partner, Lovells/Hogan Lovells (1999-present)
Global head of competition, Lovells/Hogan Lovells (2007-2013)
Regional managing partner, UK and Africa, Hogan Lovells (2013-present)
Solicitor, Republic of Ireland (2017)
KNOWN FOR
Legal Business 50 Most Influential Women in Law (2007)
Legal Business Competition Law Team of the Year (2007)
Best Woman Solicitor Running a Large Practice, Law Society Association of Women Solicitors (2009)
Winner in Innovation in Strategy and Changing Behaviours, FT Innovation Awards (2017)
Susan Bright casts her mind back to the 1980s to recall the title of a sixth-form school event that set her on the path to law. She decides that this title was a long one: 'Careers for people doing arts subjects who don't know what they want to do'.
That described 'most of my mates, probably', she says.
'There was this really inspirational speaker, a woman lawyer, who was very interesting, talking about how much she enjoyed her job. That made me think, "Right, I'm going to investigate that".'
Bright is speaking from Hogan Lovells' London office at Atlantic House, high above Smithfield Market with views across the City and Holborn. But her first experience of work came at a high street firm in Newmarket.
Studying law at Somerville College, Oxford, another engaging speaker caught her attention: Lovell White Durrant's graduate recruitment partner Harriet Dawes. Bright wrote to Dawes, secured a work experience placement and then articles with the firm.
Next year Bright will mark 30 years at Hogan Lovells. She will do so as managing partner of the London office, with an additional remit for the firm's work in Africa.
While training, she was disappointed to be turned down for a placement in Hong Kong and instead went to Brussels. In the event she 'absolutely loved it – I loved competition law'. On qualifying she returned to Brussels and spent six years at the heart of European competition law. 'It was just so interesting, that combination of economics and law, working in a different place,' she says.
One memorable case concerned 'impulse ice creams' – wrapped ice creams purchased for immediate consumption. It stuck in her mind to such an extent that she is still compelled to check the contents of any retailer's ice cream freezer.
There followed a spell at Washington DC firm Steptoe & Johnson, with whom Lovells had informal arrangements for exchanges. That experience came in handy when Lovells merged with US firm Hogan & Hartson in 2010: 'You got a real sense for the place and how a DC-based firm works. That became incredibly useful.'
Bright led the global competition practice for six years, covering the period either side of merger. 'I was introduced fairly early on to my counterpart in DC, Jan McDavid, who's a very well-renowned competition lawyer. She was leading the Hogan & Hartson competition practice and I was leading the Lovells counterpart.
'So, we had to do two things,' Bright recalls. 'One: talk about how we were going to integrate our global practice. Two: advise our respective firms about the antitrust aspects of our own transaction.' The latter took into account considerations such as merger control clearances and how to operate in the period between the deal being agreed and the date it took effect.
800 club
Lovell, White & King was founded in 1899 by John Spencer Lovell, who was joined by Reginald White in 1902 and Charles King in 1925. The firm operated from small offices on Snow Hill, on a site visible from its current headquarters, Atlantic House. In 1966, Lovell, White & King merged with Haslewoods, a small firm whose founder had advised, and been executor to, Admiral Lord Nelson. In 1988 the firm merged with finance specialists Durrant Piesse to form Lovell White Durrant.
In the 1970s it opened offices in New York and Brussels, and more offices opened in Europe and Asia throughout the 1980s and 1990s. The firm became Lovells in 2000, as it merged with Frankfurt firm Boesebeck Droste, and shortly after merged with Dutch firm Ekelmans Den Hollander and French firm Siméon & Associés. In 2010, Lovells merged with Hogan & Hartson, a Washington DC firm with a practice based on corporate, regulatory and litigation work, founded in 1904.
Hogan Lovells has more than 800 partners, a turnover exceeding £2bn and most recent profit per equity partner of $1.28m.
Bright has had some clients for decades and insists she can identify a 'kernel of something special' in the spirit of her firm. She describes Hogan Lovells as a 'collaborative place' where 'you can really talk to anybody about anything'. With 2,500 lawyers in 40 offices, the global scale of the firm is immense compared to the practice Bright joined in 1989.
A question on driving the profitability of a firm of that size prompts a two-part answer. One relates to steps taken to keep costs down while having good controls over process. That is what sits behind business services 'centres of excellence' in Johannesburg, South Africa, and Louisville in the US; together with an office in the lower-cost UK legal centre of Birmingham.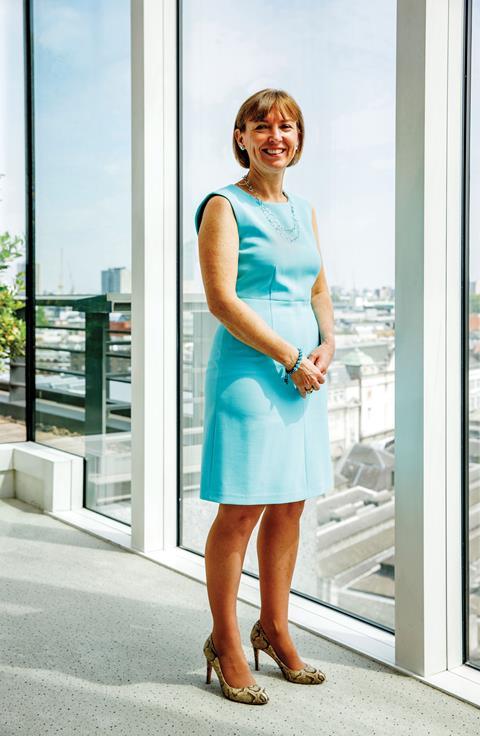 So, while there is what Bright terms 'a huge focus on wanting to work with our clients at the bet-the-ranch stuff', the firm also needs 'to be able to help them with their more day-to-day stuff which, rightly, clients want you to do as cost-effectively as possible… They want that real clarity about cost. They want the legal project management. You don't necessarily need lawyers doing those things'.
In Birmingham that means handling relatively straightforward legal tasks such as contract due diligence and business processes. The Birmingham headcount is still small at 55, but that is a 10-fold rise on when the office launched in 2015 and extra space has been acquired. In London and several other offices, various non-lawyer consultancy functions are also being started by the firm, including financial regulatory and transfer pricing arms.
The pressure from corporate clients to provide 'more for less', which came to the fore following the 2008 financial crisis, also led the firm to look at how it uses lawyers. Many alumni want to work flexibly, which allows the firm to 'staff up' and 'staff down' quickly, thereby limiting the need for spare capacity in the firm.
Hogan Lovells' other declared strategy is to be close to clients, and to engage with them on serious and challenging issues. For the firm and its clients, she terms that as 'being fit for the future'.
Shifting sectors
One change here has been 'the shift to really focusing on industry sectors and thinking about clients within that context', she says. 'So [in] financial services, insurance, life sciences, automotive – we're always looking for the next big thing our clients are going to have to grapple with. How do we help them do what they want to do?'
Bright cites 'drones, technology solutions – fintech and blockchain – and, of course, Brexit', as being potential 'big things' the firm must evolve to deal with.
Hogan Lovells' Brexit work grew out of its 'constitutional change taskforce'. When it was founded this group 'looked with clients at issues surrounding potential Scottish independence and the legal implications for clients'.
A global law firm is predicated on the belief that globalisation works – so the prospect of Brexit is a serious challenge.
'We're doing exactly what we advise clients to do, which is to look at the possible scenarios and to have a plan in place,' Bright says. 'And to do the things that you can do – what is within your power.' For example, Bright has qualified as an Irish lawyer just in case 'we move out of both the EU and the EEA'.
'We are looking at our structures,' she continues, 'because it's possible that we may need to make some changes to the way we structure ourselves in continental Europe. That's a possibility.'
She adds: 'We're monitoring what's going on and thinking about different scenarios. We're ready and then, as and when you need to take action, you do. So, we took action on requalifying in Ireland relatively early, because we thought that was a sensible thing to get under our belt.'
Bright finds advances in the use of technology in law 'genuinely exciting'. But do they threaten junior lawyers?
She insists not: 'Technology can take away some of the less interesting parts of the job, and can free people up, at a more junior level, to really focus on the more exciting things. I would encourage people starting out to really get a good handle on technology, because I think it will be their friend if they manage to really understand it.
'At the end of the day,' she argues, 'the pure essence of being a lawyer is the same. It's about understanding the law, being able to help your client through what could be a very tricky piece of litigation… really complex advice. That's what people want. It's about building relationships. Pieces of technology don't do that. For the next generation of lawyers, it's an exciting time and it's a very global time, as well.'
The firm's partners, she says, have also had to acquire new skills to run an enlarged firm in a changing environment. 'We're now a £2bn-plus business… we've got 800-plus partners,' Bright points out. That is why the firm has developed a 'leadership programme' with Saïd Business School in Oxford.
'A partnership is different from a corporate [vehicle],' she continues. 'Partners are both workers in the business and owners. Navigating all of that I find incredibly interesting, but also very challenging. This leadership programme has helped to create a cohort of people who are honing those leadership skills, which I think is critical.'
Developing partners
Bright's favourite aspect of the training, she says, 'was thinking about my different leadership styles for different times – how to adapt my approach for different situations. When the times are good and you're sharing the great stuff, or when you've really got to drive through a difficult decision, and need to adapt'.
It does, Bright says, support the task she has defined for herself: 'I see my job as creating a platform here in the UK and across Africa, where all my colleagues can be hugely successful… being a bit of a snow plough, moving things out of the way but also creating an environment where people can really perform at their best.'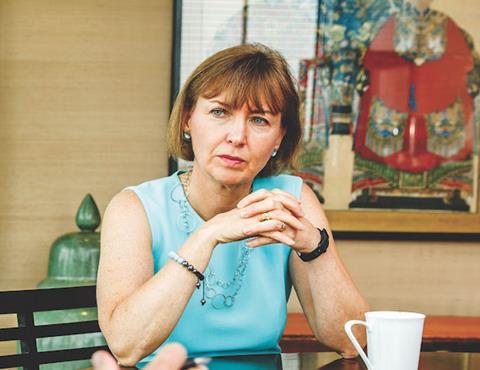 Just over a quarter of the partners at Hogan Lovells are women – not an exceptional figure for an international firm. But Bright is keen to improve the balance and notes that five recent lateral hires were women.
'I'm one of three girls [in my family],' she says. 'Women being really successful really matters to me. Really focusing on how more women get into partnership, and rise up through the partnership is a real passion of mine.
'My mum was a doctor. My aunt was a lawyer. I just thought women worked, that's just what we expected to do… my father always thought his girls could do anything, and my mum too.'
Bright and her sisters all work full-time. 'We've got 10 children between us,' she notes (three are hers). 'I just think every woman should have that chance, if that's what they want to do. If it's not that's fine too, but that drives me.'
When gender pay gap information was made public earlier this year, where the firm did outperform the market was in partner rewards – women partners take home 2% more than their male counterparts.
'I was very pleased with that outcome,' Bright says, adding it 'resonated in the marketplace'.
She likes the principle of transparency and 'would welcome more clarity', including guidance on how to reflect the different ways various functions are paid and rewarded. 'I would welcome all firms being required to include partners, and to have a single way of doing it,' she says.
Hogan Lovells' London office – the entrance hall of which includes a 'kinetic' metal sculpture several storeys high – is a long way from a high street firm in Newmarket. And the financial rewards for lawyers in Atlantic House are of a different order. Can we really talk any more about solicitors being of 'one profession'?
Bright believes we can, alluding to the firm's pro bono work (she's acting in a pro bono case at the moment). In the week we meet, Bright's fellow partner Charles Brasted secured a win for family law organisation West Sussex Resolution in a battle to save Chichester Court. That day another partner, Michael Davidson, was in Birmingham acting for a services family in a high-profile inquest.
What unites solicitors, Bright suggests, is a 'sense of justice'. But she also cites using the law in a creative way to get an outcome, and a real love of language.
'It's a love of creating that argument, creating that great document, or that great piece of advocacy,' she concludes. 'There's nothing that excites me more than a blank sheet of paper and thinking, "how do I best put this person's case?".'