In a posthumous message published today, assisted dying campaigner Noel Conway has declared that it is 'only a question of time' before the law changes to allow terminally ill people to end their lives.
It was announced this morning that Noel Conway, 71, had died after removing his ventilator. Conway, who suffered from motor neurone disease, brought an ultimately unsuccessful challenge against the law on assisted dying in 2018.
Humanists UK, which intervened in support of his case, issued a statement from the former teacher to be released on his death.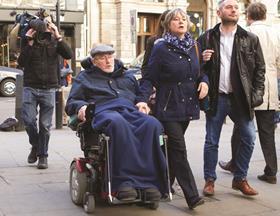 Conway said: 'When you read this I will be dead. Not because I have suffered a tragic accident or died from a long-standing or painful disease. No, it will be because I have made a conscious and deliberate effort to end my own life. Over the past two months it has become increasingly evident to me that the balance of fulfilment in life, or if you like, my quality of life, has dipped into the negative. I recognise that the time has come to take the decision now to do something about this.
'Under UK law it is perfectly legitimate to remove a ventilator from someone like me. This is not something I would have chosen but I feel that I have no alternative to ending my life without pain and suffering and without compromising others. However, my heart goes out to all those people with terminal cancers and other horrible diseases which makes their lives execrable because they can't find any release from their terrible suffering. I have spent the last several years campaigning to have the law changed. I am glad Parliament is continuing to discuss it and investigate possibilities of an assisted dying law in line with many other countries over the last few years. It can only be a question of time before assisted dying will be approved in the UK.'
Humanists UK chief executive Andrew Copson said: 'Nobody should be forced to end their life while physically suffering, or facing the fear of a slow and protracted death.
'Noel shined a light upon the barbaric nature of our current law on assisted dying. By doing so, his bravery should serve as a powerful reminder to politicians that we should be past the point of turning a blind eye to this issue.'