Lord Justice Jackson, architect of the present civil costs regime, last night called for fixed costs to apply to all claims valued up to £250,000.
Jackson (pictured) urged government ministers to make reform an immediate priority with a view to setting fixed recoverable costs by the end of this year.
Responding today however, the Law Society voiced serious concerns over the proposals. While it supports the principle of fixed costs in limited circumstances, the Society said their application for highly complex cases would be 'totally inappropriate' and undermine access to justice.
Having carved out the costs reforms that formed part two of the Legal Aid, Sentencing and Punishment of Offenders Act 2012, Jackson said the time has now come to extend the fixed fees regime significantly. Current fixed costs apply only to personal injury claims valued up to £25,000, but Jackson recommended that every type of civil claim up to £250,000 should be subject to new restrictions.
In a speech in Westminster, he even went as far as to suggest a grid of rates – minus disbursements and VAT – for each value of claim: £18,750 for claims up to £50,000; £30,000 for claims up to £100,000; £47,500 for claims up to £175,000, and £70,250 for claims up to £250,000.
However Jackson advised the government to pause plans for fixed fees for clinical negligence claims to stop the 'Balkanisation' of fees for different types of claim.
'What we do not want to have is a series of separate grids for different types of cases,' he said. 'There should be a single fixed costs grid for all multi-track cases up to £250,000.'
The judge baulked at applying fixed costs to claims valued over £250,000, saying that 'would be too great a change for the profession to accept', though he suggested a universal costs regime could be implemented once people see how it works.
Jackson acknowledged that his recommendations may not be welcomed by solicitors on both the claimant and defendant sides, but he said the reform would save on the pressures of costs management and help solicitors to explain to clients how costs have been accrued.
The full proposed costs table: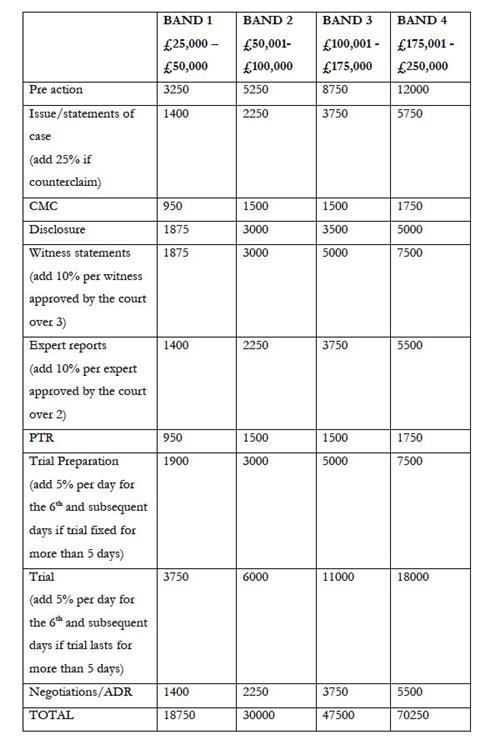 He also said practitioners' experience of fixed fees in low-value claims – as well as in the IP Enterprise Court – has been 'satisfactory'.
'My impression is that the profession is now more willing to accept fixed costs than it was in the past,' he said. 'I do accept if we have a regime of fixed costs there will be winners and losers – it is impossible a case will cost the client precisely the amount set out in the grid.
'That is a price worth paying in order to obtain the benefits of certainty, predictability and proportionality – I have come across cases which have flown out of control where the issue is of modest value.'
In a statement this afternoon, Law Society president Jonathan Smithers said that while the Society supports the principle of fixed costs for lower value and less complex cases, it is 'extremely concerned' at the proposal costs should be fixed for all claims up to £250,000. This represents a tenfold increase on the current limit for many claims.
He added: 'The application of fixed costs for highly complex cases is likely to be totally inappropriate and would raise significant questions about the ability of many people to access justice.
'A single approach for all cases, regardless of complexity, will lead to many cases being economically unviable to pursue which undermines the principle of justice delivering fairness for all. We are also concerned by the suggestion that these proposals could be consulted on and implemented within a year as we believe this is unrealistic.
'While Lord Justice Jackson does not speak with the authority of the government his views are clearly of huge interest. We support his call for a delay in the implementation of fixed costs in clinical negligence cases. Fixed fees are simply not appropriate in cases where a baby has died as a result of negligent care. A fixed costs scheme could curtail the ability for important cases to be brought, where the severity of the issue is not reflected in monetary terms but the purpose of the case is to reduce incidents of harm in the future by ensuring lessons are learned.
'Lord Justice Jackson set out his views in a speech delivered last night, six years after he published a fundamental review of the rules and principles governing the costs of civil litigation, aimed at promoting access to justice at proportionate cost.
'The introduction of fixed recoverable costs for further civil work has been expected for some time and the Law Society agrees that they could be appropriate in low-value claims as they can provide greater certainty for both sides in litigation and they avoid protracted disputes about the level of costs. They can also reduce the problems caused by costs budgeting and assessment in civil litigation.'
Smithers added that the Society supports the principle of fixed costs, provided that a number of hurdles are met:
* The recoverable fixed costs should usually only apply to non complex claims where the issues are likely to be straightforward.
* The costs must be fixed at a reasonable rate for the work done and to allow for the work to be carried out effectively and efficiently by properly regulated professionals such as solicitors.
* There must be scope for exemptions and escapes for complex or unusual cases.
* There must be rigorous empirical evidence and research undertaken to justify the initial setting of the rates as well as the level of thresholds.
* The rates and thresholds must be regularly reviewed and increased by reference to appropriate indices.
* Court procedures and court rules should be properly aligned with their introduction.
* Appropriate and efficient IT in the court system should be introduced to support the fair and effective delivery of any new fixed costs regime.
Read Litigation Funding editor Rachel Rothwell's expert analysis of Jackson's speech here.
Lord Justice Jackson will deliver the keynote address at the Law Society's Civil Litigation Section spring conference in April.