A week-long annual celebration of lawyers' pro bono efforts could be replaced with a new event to highlight broader justice issues, the Gazette has learned.
The Law Society, Bar Council and Chartered Institute of Legal Executives (CILEx) are hoping to set up 'Justice Week', which will replace National Pro Bono Week.
A Society spokesperson told the Gazette: 'Given the success of pro bono week, discussions have been taking place as to whether it is possible to widen its scope to other justice issues such as public legal education and the role of technology. The ongoing conversation about the possibility of rebranding the week involves partner organisations across the legal sector.'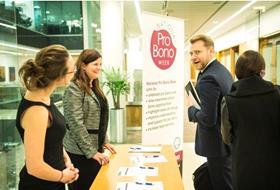 National Pro Bono Week, which was set up in 2001, is an annual week to recognise the contribution lawyers make, free of charge, to people and organisations needing legal advice who otherwise would not be able to afford it. Solicitors were widely praised last year for quickly stepping in to volunteer their services to victims of the Manchester Arena and London Bridge terror attacks, and the Grenfell Tower fire.
Disclosure failings, further legal aid reforms and an expose of the criminal justice system by the Secret Barrister, a legal blogger, have prompted practitioners to take action. In April lawyers held a 'vigil for justice' outside the Ministry of Justice's London headquarters. More than 100 chambers refused to take new cases from 1 April, in protest against changes to the Advocates' Graduated Fee Scheme (AGFS), under which legal aid payments are calculated.
The Law Society is taking the government to the High Court in relation to changes to a similar fee scheme for solicitors while the Law Centres Network is currently awaiting judgment in relation to its judicial review over the government's procurement for legal aid housing duty contracts.