As the attorney general talks up the importance of pro bono work to help increase access to justice, the solicitor general says the 'good work' being done by solicitors needs to be mapped.
Robert Buckland QC MP told the Gazette that the newly established public legal education panel, which he chairs, will map two strands of work taking place over the country over the next few months.
'Just in time' work will cover help for people facing an immediate problem. Buckland said: 'We are working towards signposting people towards the right areas of help. There are a lot of people who need help and knowledge, and do not know who to turn to.'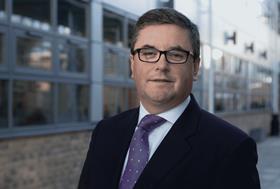 'Just in case' public legal education work will cover preventative work that makes people aware of their rights and responsibilities.
To mark National Pro Bono Week, the solicitor general yesterday visited the University of Law's pro bono department at its Chester campus. He met students working with the National Centre for Domestic Violence which provides a free, fast emergency injunction service to survivors. He also watched a 'streetlaw' session in which students taught school children about the legal issues related to filming at school and posting footage online via social media.
Today, Buckland was due to attend an all-party parliamentary group on public legal education event, where civil rights campaigner Edgar Cahn will discuss the concept of 'time banking', which he founded.
Under the movement, people list the skills and experience they can offer and those that they may need. One hour equals one time credit. Everyone agrees to both give and to receive help, to earn and to spend their time credits. People are encouraged to spend their time credits to allow others the chance to make a difference and feel needed. Buckland said time banking was an 'interesting' concept that 'deserves more support in the UK'.
The attorney general, Jeremy Wright QC MP, meanwhile today visited King's College London's new legal advice centre which provides free legal services to those who cannot afford a lawyer. Wright said: 'Pro bono is an ancient legal tradition that widens access to justice and I look forward to meeting the students involved in pro bono work at King's College.'
Meanwhile the solicitor general is confident that the government will conduct a thorough review of the impact of the Legal Aid, Sentencing and Punishment of Offenders Act 2012. The review will examine areas including changes to the scope of legal aid for family, civil and criminal cases, and the introduction of the exceptional case funding scheme.
Buckland told the Gazette the 'lengthy and detailed' review will be completed in around nine months time. The solicitor general, who last month conceded that there are examples in the system of unfairness that need to be plugged, is confident the 'wide-ranging' review will also examine early intervention work.