Group action pioneer David Greene has won a Law Society presidential election that sets him on course to become president at Chancery Lane in 2020.
The Society announced today that Greene, senior partner at London commercial firm Edwin Coe, will take office as deputy vice-president in July. He will be vice-president next year.
Greene is widely known for acting for one of the claimants, in 2016, in the article 50 litigation. Profiled in the Gazette earlier this year, he has litigated on behalf of sex workers, Railtrack shareholders, striking miners, a pregnant university student and victims of the Hillsborough football stadium disaster. Most recently, he was involved in challenging what Labour party leader Jeremy Corbyn dubbed the 'grubby deal', whereby the Democratic Unionist party (DUP) secured £1bn of new Treasury investment in Northern Ireland in exchange for a confidence and supply agreement with Theresa May's Conservatives. At last year's Law Society Excellence Awards, Greene was named Law Society Gazette Legal Personality of the Year.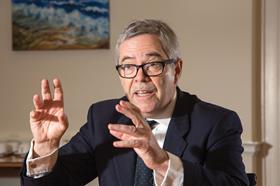 Greene holds the Society's Council seat for international practice, and chairs the policy and regulatory affairs, and international committees. He is also Chancery Lane's Brexit lead.
Greene said: 'It's a great honour to be elected to this position. I look forward to working with the other office-holders as well as the staff. I am proud of our profession and the part it plays both in daily life for citizens and business, and internationally. I want to ensure it maintains its prominence and continues to campaign for access to justice and the rule of law.'
Joe Egan, Society president, extended 'hearty congratulations' to Greene, 'who emerged as the winner from an extremely strong field of candidates'.