A City solicitor who told his client to 'burn' a messaging application after grocery business Ocado obtained a search order has told the High Court he was not aware of the need to preserve relevant documents for potential litigation.
Raymond McKeeve, a former partner at Jones Day, is accused of contempt of court in relation to his work for a company called Project Today, which was set up by Ocado co-founder Jonathan Faiman.
The 50-year-old, now a senior partner at corporate finance firm Dial Partners, is said to have told the company's IT manager to 'burn all' or 'burn it' on the same day he was served with a search and evidence preservation order in July 2019.
McKeeve 'panicked' because he feared it would reveal details about his wife, then-Brexit Party MEP Belinda de Lucy, and ordered the deletion of the 3CX private messaging app as a 'knee jerk reaction', the court heard yesterday. Ocado says that McKeeve 'intentionally interfered with the administration of justice and thwarted the purpose of the search order' and that his actions as a solicitor are 'unprecedented'.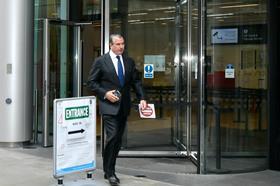 However, McKeeve's lawyers argue that his conduct does not amount to contempt of court, while McKeeve said in a July 2019 affidavit that it did not occur to him that he was asking Project Today's IT manager 'to do anything that might represent a breach of the terms of the order'.
Beginning his evidence this afternoon, McKeeve – who has previously described himself as a 'deal lawyer' – said he was not aware of the importance of telling a client to preserve documents.
David Cavender QC, for Ocado, asked McKeeve if he was aware of the 'importance of complying with court orders', to which he replied: 'Generally, yes.' He added: 'I had never been involved in any litigation before so I would not know the specifics of court orders.'
Cavender asked: 'You were not aware as a solicitor that if one of your clients was the subject of litigation [that it is] important that you tell that client to preserve all relevant documents?' McKeeve said: 'I was not aware of that.' Asked if he was aware now, he replied: 'I am.'
Cavender suggested that McKeeve's evidence about participating in litigation was 'not entirely true', noting that he had been involved in a 'party wall dispute' on which the county court ruled in November 2018.
'Surely you must have been aware that, in litigation, documents passing between parties and what they say are of the utmost importance … you must have been aware from this that communications between people, parties, if there is litigation are of the utmost importance,' Cavender said. 'Yes, that is a reasonable comment,' McKeeve replied.
The hearing continues.