High profile Doughty Street Chambers barrister Amal Clooney is to head a UK government initiative to protect media freedom around the world. She will chair a panel of legal experts set up to challenge laws hindering journalists, the Foreign and Commonwealth Office announced.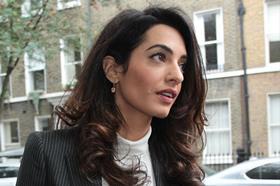 According to the government 2018 was the deadliest year ever for journalists, with 99 killed, 348 detained and 60 taken hostage by non-state groups.
Foreign Secretary Jeremy Hunt said that the legal panel will examine legal and policy initiatives that states can adopt to improve media freedom including by:
Offering advice to governments who want to strengthen legal mechanisms to improve media freedom;
Supporting the repeal of outdated and draconian laws;
Encouraging and supporting governments to help ensure existing laws and international obligations are enforced;
Promoting best practice and model legislation to protect a vibrant free press.
Hunt said that Clooney's work on human rights 'means she is ideally placed to ensure this campaign has real impact for journalists and the free societies who depend on their work.She will use her expertise to chair a panel comprising the world's best legal minds to develop and promote legal mechanisms to prevent and reverse media abuses.'
Clooney said: 'I welcome the UK government's focus on this issue at a time when journalists are being killed and imprisoned at record levels all over the world and I look forward to working on new legal initiatives that can help to ensure a more effective international response.'
The other mambers of the panel have not been named. All members will work pro bono, the announcement said.