Paul Marsh, president of the Law Society of England and Wales in 2008/09, has died at the age of 70.
A conveyancing practitioner for more than four decades, Marsh was chair of the Solicitors Indemnity Fund for several years and served on the Society's Conveyancing and Land Law committee, which he also chaired for two years. He was heavily involved in the creation of the now-established quality mark the Conveyancing Quality Scheme. In 2012 he was appointed to the first board of the Solicitors Regulation Authority to have a lay majority, stepping down last year.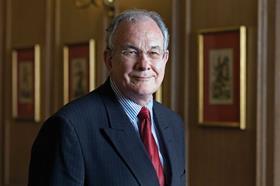 In 2007 Marsh was awarded an honorary doctorate in Law by Kingston University for his services to the legal profession. He was also listed in the Times as one of the 100 most influential lawyers in England and was a member of a number of government working parties looking at conveyancing, leasehold enfranchisement and housebuying.
After graduating from Coventry University and attending Guildford College of Law, Marsh became an articled clerk with Bells Solicitors in Kingston and was admitted as a solicitor in 1972. In 1973 Marsh became a partner in Bells, becoming senior partner in 1986 and remaining in that role until 2006.
He worked latterly as a consultant to Downs Solicitors in Surrey.
Current Law Society president Joe Egan said: 'Paul served our profession with great distinction. He was a perfect gentleman with a great sense of humour. I still remember how he made Council laugh with his valedictory speech when he left council after serving a wonderful term as president. He will be missed by a great many people and my condolences go to his wife and family.'
A memorial service for Paul Marsh will take place at 3pm on Thursday 12 July at the Holy Trinity Church, High Street, Bramley, Guildford, Surrey.