The vital work carried out by law centres to help those 'invisible and unheard' in society has been honoured at this year's Legal Aid Lawyer of the Year awards, with the most sought-after gong going to a housing solicitor who helps people 'who sit on the outside of everyday, acceptable society'.
Hammersmith and Fulham Law Centre's Sue James, who has been a legal aid lawyer for 28 years, received the 'outstanding achievement' award at the 15th Legal Aid Lawyer of the Year Awards ceremony in London. The awards are organised by the Legal Aid Practitioners Group.
James received her prize in front of guests including Labour MP Keir Starmer, the shadow secretary of state for Brexit.
After receiving her award from Baroness Lawrence (Doreen Lawrence), James told the event she thought her life 'was a bit like Batman in Gotham City fighting for justice with an invisible cape'.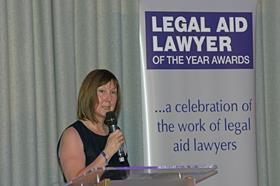 James knew 'from her many years representing tenants that good housing changes people's lives'. Decent, safe, affordable housing 'should be a basic right'.
Alluding to the Grenfell Tower tragedy, James hoped recent events 'will bring about change'. The evening had begun with huge applause for North Kensington Law Centre's efforts - along with homelessness charity Shelter and the Housing Law Practitioners Association - to help victims and their families following the fire in west London.
Law centres 'just do things differently,' said James, who recently set up an outreach service at a local foodbank. 'I love that we get to go from the food bank to the Supreme Court,' she said.
Sky News presenter Anna Jones, the evening's compere, told the audience that James, a trustee of Ealing Law Centre, was 'probably one of the few lawyers alive to have worked full time at one law centre, while setting up a new law centre elsewhere, after a neighbouring borough lost its main social welfare provider.
'Setting it up as a charity, securing legal aid contracts and grant funding, in her spare time, to ensure the people of Ealing were not left in an advice desert. All this, when the [legal aid] cuts were just starting to bite and many law centres were going the other way and closing their doors'.
The winners
Legal aid newcomer: Tom Royston, Garden Court North
Immigration and asylum: Kaweh Beheshtizadeh, Barnes Harrild & Dyer
Legal aid barrister: Philip Rule, No5 Chambers
Family private (including mediation): Mary Shaw, David Gray Solicitors
Family public: Sheila Donn, Philcox Gray Solicitors
Social and welfare: Stuart Luke, Bhatia Best
Public law: Keith Lomax, Minton Morrill Solicitors
Criminal defence: Graeme Hydari, Hodge Jones & Allen
Children's rights: Solange Valdez-Symonds, Project for the Registration of Children as British Citizens/Migrant Resource Centre
Legal aid firm/not-for-profit agency: The Community Law Partnership
Access to justice through IT: Advicenow (Law for Life)
Outstanding achievement: Sue James