Hogan Lovells' gender pay gap has widened to over 30%, driven up by bonuses for lawyers. Elsewhere in the City, discrepancies in pay show little sign of improvement.
Hogan Lovells has reported a mean gender pay gap of 31.7% for employees, up from 18.7% in 2019. The firm said bonuses paid in April 2020, based on chargeable hours, had a 'substantially adverse impact' on the data.
'Our bonus pay is impacted by several factors: a higher proportion of women perform senior non-fee earning roles and are therefore not eligible for chargeable hours bonuses, a significant proportion work part-time (one in five), and/or have taken a period of family leave. This results in pro-bonuses which influence our bonus gap,' the firm said.
If the additional bonus had not been paid early, the mean hourly pay gap would have been less than 1% different from 2019.
Among lawyers – excluding partners – the gender pay gap stands at 3.1%. The firm's combined gender pay gap for employees and partners is significantly higher, however, at 56% (down from 57.8% in 2019). Some 27% of Hogan Lovells' global partnership is female, and women make up 30% of UK partners.
The firm said it 'became clear very quickly after lockdown' that female staff were particularly impacted by Covid-19. 'We reviewed our policies, processes, and procedures to ensure we put in place additional support for our people and line managers tackling the challenges that arose.'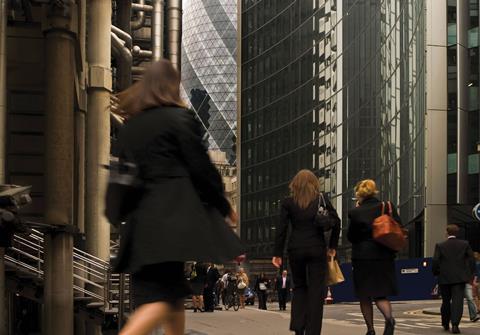 Hogan Lovells also reported an ethnicity pay gap of 9.5%, in line with 2019.
Elsewhere in the City, magic circle Clifford Chance has reported a employee gender pay gap of 19.1%, down from 20% on 2020. Its overall pay gap – including partners – fell from 65.7% to 63.5%.
On ethnicity, the firm's overall pay gap is 47.5% down from 51.6% in 2019.
Michael Bates, UK regional managing partner, said: 'Last year, we determined to find accelerators that we hope will break through the all-too-gradual pace of change in the sector. While our pay gap data shows that we are moving in the right direction, this progress remains slower than we would like, and we have more to do to realise our global inclusion strategy to change the rules, change the culture, change the lived experience.'
Clyde & Co has published a firm-wide gender pay cap of is 57.5%, up from 56.8% in 2019. Earlier this year, Linklaters also revealed that its gender and ethnicity pay gaps had widened slightly, with the most significant cause of pay discrepancies still unchanged.