New details have emerged of a secret trial in which a prominent Iranian human rights lawyer was sentenced to 33 years in prison and 148 lashes. Nasrin Sotoudeh, who is already serving a five-year sentence, was informed earlier this month of a court ruling issued after a one-day hearing in December, the League for the Defence of Human Rights in Iran said.
Sotoudeh has been held in Tehran's Evin prison since June last year after agreeing to defend women charged with removing their hijab head-coverings in public.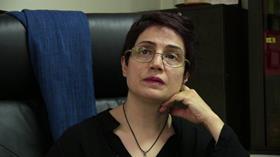 According to rights campaigners, Sotoudeh has been found guilty on seven charges: 'gathering and collusion against national security'; 'spreading propaganda against the system'; 'effective membership of illegal and anti-security splinter groups'; 'encouraging people to commit corruption and prostitution, and providing the means for it'; 'appearing without the sharia-sanctioned hijab at the premises of the magistrate's office'; 'disrupting public order and calm'; and 'spreading falsehoods with intent to disturb the public opinion'.
The indictment includes charges that Sotoudeh 'removed her hijab during family visits in Evin prison'; 'was a prominent, active and organised member of Defenders of Human Rights Centre'; 'received €50,000 [disguised as the] Sakharov prize for her subversive actions'; and 'was involved in a call for a referendum'.
Judge Mohammad Moqisseh sentenced Sotoudeh to the maximum on every charge, adding up to 29 years. The judge then added four more years under a provision covering multiple offenders. Sotoudeh was unrepresented in court. She has 20 days to appeal the ruling.
The sentence attracted widespread condemnation. Amnesty International described Sotoudeh's treatment as an 'outrageous injustice'. The Paris bar last week unanimously elected her an honorary member.