Legal aid lawyers have spoken about the honour they feel being trusted by society's most vulnerable as they were honoured in a virtual but glittering ceremony last night.
Hundreds of people watched the 19th Legal Aid Lawyer of the Year Awards broadcast live on YouTube. The ceremony is organised by the Legal Aid Practitioners Group.
Among the winners were Irwin Mitchell solicitor Kirsty Stuart, who won the inaugural disability rights award.
Asked about the impact of the Covid-19 pandemic on her clients, Stuart told the ceremony that the pandemic has been incredibly tough for many of her clients.
She said: 'They have had to handle a lot of difficulty in terms of not having contact with their loved ones. They are really having to do their best to overcome a lot of difficulty. I've been there to help them along the way. It is an honour to represent them, for them to put their trust in me as their lawyer and open up in their darkest moments. It's a really rewarding job. I wouldn't do anything else – I absolutely love my job.'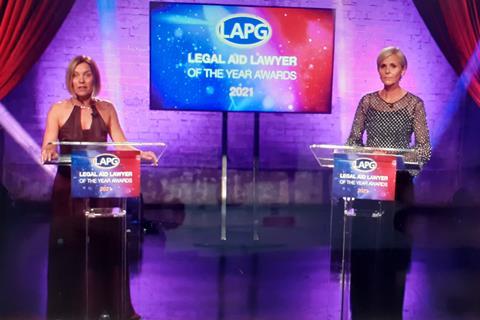 Garden Court Chambers barrister Audrey Cherryl Mogan won the award for legal aid newcomer.
Sky News presenter and ceremony host Anna Jones asked Mogan about her role as co-director of Black Protest Legal Support, which provides volunteer legal observers to monitor police presence at protests on the streets.
Mogan said: 'It's an amazing organisation. It grew out of the Black Lives Matter movement which started in June last year - protests that took over the globe after the death of George Floyd.'
Mogan said there was a need for proper legal observers to ensure people exercising their right to protest are protected. 'Legal observers make sure that people are able to exercise that right to free speech and speak against oppression and speak when they want to speak.'
The award for legal aid team went to Matthew Gold & Co public law and community care team, who told the ceremony that their ethos was 'trying to help marginalised and disadvantaged groups, and using the law to make a positive change'.
Cris McCurley, a partner at north-east firm Ben Hoare Bell, won the family legal aid award. Asked about the impact of the pandemic, McCurley said the demand for services relating to domestic abuse has never been higher. 'The emotional demand on us has never been higher,' she added.
Public Law Project's Rakesh Singh, who won the public law award, said access to justice 'is not an abstract concept and can mean people are protected from serious harm'.
Criminal defence winner Suzanne O'Connell, a solicitor-advocate at national firm Tuckers Solicitors, told the ceremony that the pandemic had put even more pressure on a justice system that was already under pressure.
Legal Aid Lawyer of the Year Awards 2021 – winners
Disability rights – Kirsty Stuart, Irwin Mitchell
Social welfare – Andrew Sperling, SL5 Legal/Tuckers Solicitors
Legal aid newcomer – Audrey Cherryl Mogan, Garden Court Chambers
Legal aid team – Matthew Gold & Co public law and community care team
Legal aid barrister – Tessa Buchanan, Garden Court Chambers
Family legal aid – Cris McCurley, Ben Hoare Bell
Public law – Rakesh Singh, Public Law Project
Housing law – Kathleen Cosgrove, Greater Manchester Law Centre
Criminal defence – Suzanne O'Connell, Tuckers Solicitors
Legal aid firm/Not-for-profit agency - MJC Law
Regional legal aid firm/Not-for-profit agency - Law Centre Northern Ireland
Outstanding achievement - Adam Hundt, Deighton Pierce Glynn; Alex Goodman, Landmark Chambers