The Law Society has appointed Paul Tennant, interim chief executive since last year, as its permanent CEO with immediate effect.
In a statement, the Society noted that Tennant has worked on sharpening the Society's focus, with more to be done to improve communications with members and keep them up to date, and to support solicitors throughout their careers.
Robert Bourns, chair of the Law Society's Board said: 'We are delighted Paul has been confirmed in the role after an open and rigorously competitive process. Paul has a strong track record as CEO in another sector, building the business and its capacity for change. As interim he helped us introduce changes to governance while maintaining a focus on the value we deliver to our members, now and in the future. We look forward to developing this work without interruption, with Paul at the helm.'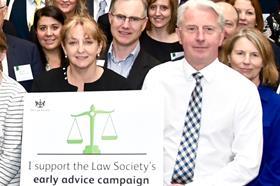 Tennant, pictured right, previously worked for various housing associations and was most recently chief executive of Orbit Group.
His spell as interim CEO at Chancery Lane has coincided with the introduction of significant changes to Society governance. These include the establishment of the new Board, and new committees for Policy and Regulatory, and Membership and Operations.