The Law Society has voiced dismay over the 'demolition' of client protections proposed by the regulator in its new consultation on client redress.
Millions of people would be prevented from claiming against the compensation fund under the proposals, published last Friday. The Solicitors Regulation Authority has also revived plans to slash minimum professional indemnity insurance cover.
In a statement, the Society's vice president Christina Blacklaws said plans to cut client protections are 'utterly misguided' and would hurt solicitors and clients alike. Chancery Lane has also highlighted the absence of evidence that cutting PII cover will reduce insurance premiums for solicitors.
The SRA's blueprint would effectively see the fund transformed into a 'hardship' pool for those wronged clients who are most in need. The maximum payment that could be made from the fund – which replaces money lost through dishonesty – would fall from £2m to £500,000. Eligibility would also be stripped from applicants with net financial assets of over £250,000, excluding roughly 5% of the population from claiming.
Speaking at the Law Society's annual Risk and Compliance conference on 16 March, SRA chief executive Paul Philip revealed that the regulator is deeply concerned about the potential of 'get-rich-quick' schemes fronted by law firms to devastate the client redress regime.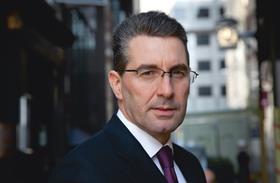 Citing schemes that 'offer a 15% return in a year from investing in car parking spaces, hotel rooms or housing estates in Bulgaria that don't exist', he said such schemes can channel hundreds of millions of pounds through the client account. Just one scheme that goes bad could bankrupt the compensation fund, he warned, amid fears that law firm clients are relying on the fund as a fallback for investing in such risky ventures.
He said: 'By changing our eligibility criteria, we will be able to focus better on the people most in need of our support, those who have been placed in genuine financial hardship by the dishonest actions of solicitors.'
Speaking to the media last Thursday, Philip admitted the proposals do constitute a reduction in consumer protection but stressed it was necessary to stave off threats to the compensation fund.
In the same consultation, the SRA also revives a proposal previously rejected by the Legal Services Board to cut minimum professional indemnity insurance cover from £2m to £500,000. Firms doing conveyancing work would need £1m minimum cover for each claim.
The SRA says more than half of firms take out more than the minimum cover presently required and that 98% of PII claims against law firms are valued at less than £500,000.
There is no guarantee, however, that cutting the minimum cover would lead to significant falls in premium rates.
Philip added: 'Ten years of data shows our current one-size-fits-all arrangements are too rigid. Our proposals will help firms – particularly small ones – make sure they are not paying more than they need to protect themselves and their clients.'
The SRA plans to maintain a six-year run-off period for firms closing down, with a £3m cap for those needing conveyancing services cover and £1.5m for other firms. The reform is intended to make it easier for firms to close properly and reduce the risk that solicitors delay retirement unnecessarily.
The Law Society's Blacklaws said Chancery Lane agrees that insurance standards need to be reviewed, but added: 'We need to get the balance right between protecting consumers, protecting solicitors and promoting a competitive insurance industry. Premiums already reflect levels of risk in the work a firm undertakes, and cost is front-loaded into the first £500,000 of cover, so the idea that the current system is unfairly 'one size fits all' is nonsense.
'Solicitors and their clients are protected by gold standard insurance, which is appropriate given the gravity of many of the issues we deal with."
The Society points out that the SRA has provided no evidence to show its proposals will result in lower costs for solicitors or clients. Blacklaws added: 'Brokers have told the Law Society these proposals are unlikely to result in lower premiums, so it's hard to see how clients could possibly benefit from any savings being passed on, but it's easy to see how they might suffer.
'It's baffling that the SRA is proposing further demolition of client protections, on top of that already on the table if proposals to allow solicitors to advise clients without the security of a law firm go ahead. No other profession in the UK offers their clients such comprehensive or robust protection and this is one of the distinctions that underpin public trust in the legal sector, and solicitors in particular. Let's keep it that way.'
The consultation lasts until 15 June.