Lord Justice Burnett is to be the next head of the judiciary in England and Wales, the prime minister announced today. The 59-year-old Court of Appeal judge will take over as lord chief justice from October on the retirement of Lord Thomas of Cwmgiedd.
The Rt Hon Sir Ian Burnett QC is 59 - making him the youngest lord chief justice since 1958, Gazette columnist Joshua Rozenberg commented. He was a scholarship boy at a grammar school, studied law at Pembroke College, Oxford, and was called to the Bar in 1980. He was a member of Temple Garden Chambers, where he practised until May 2008, for the last five years as head of chambers.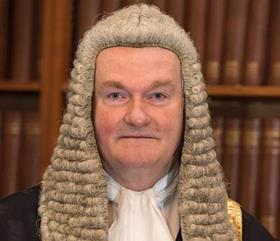 Burnett had a high profile practising in public and administrative law, personal injury and health and safety law, including acting as junior counsel to the King's Cross fire inquiry and to the inquiry into the convictions of the Guildford Four and Maguire family. He was leading counsel to the inquiry into the Southall rail crash and into train protection systems following the Ladbroke Grove crash.
His final case at the bar was as counsel to the inquests into the deaths of Diana, Princess of Wales and Dodi al Fayed. He was involved in many judicial review and public law cases and, in particular, in the years following 9/11 those concerning the government's response to the risk of terrorist attack. He then joined the High Court Bench.
Appointed as a recorder in 2000, he sat as a part-time judge in the crown court trying criminal cases.
On appointment to the High Court in 2008, Lord Justice Burnett joined the Queen's Bench Division hearing civil law, and public law cases in the Administrative Court, trying serious crime out of London and sitting in the Court of Appeal, Criminal Division. He was presiding judge of the Western Circuit from 2011 until 2014 when he was appointed to the Court of Appeal. In the Court of Appeal Lord Justice Burnett has heard the full range of civil, family and criminal appeals and continued to sit in divisional courts of the High Court.
He was vice chairman of the independent Judicial Appointments Commission from November 2015 until March 2017, when he decided to step down to apply for this role.
Three other appeal judges were shortlisted for the job. Two potential candidates, Sir Brian Leveson and Dame Heather Hallett, were ruled out on grounds of age when the former lord chancellor Liz Truss decided that the new chief justice should be able to serve for at least four years before reaching the mandatory retirement age of 70.
Welcoming the appointment, Law Society president Joe Egan said: 'Lord Justice Burnett takes up his new job in challenging times. Among the items in his in-tray are the court modernisation process and the thorny issue of fixed recoverable costs. We are also very much hoping that he will take a leading role in promoting the law of England and Wales overseas.'