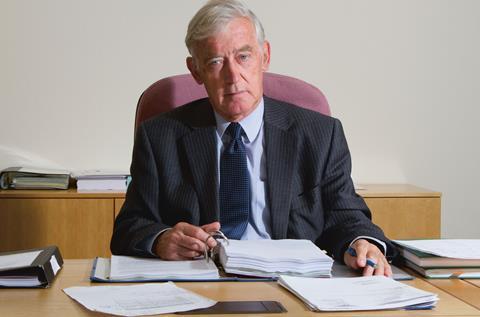 Probate 'death tax' under fire
The House of Lords approved a statutory instrument that could result in some probate fees increasing nearly 40-fold but put on record its discontent. The Lords added an amendment saying the government's proposal represents 'a significant move away from the principle that fees for a public service should recover the cost of providing it and no more'. The House of Commons is due to assess the statutory instrument before 1 April. If approved, the maximum probate charge would rise from £155 to £6,000.
Complaints delayed
Complaints about lawyers are taking six months just to be looked at, the Legal Ombudsman admitted as it struggles with a backlog of cases. Visitors to the ombudsman website are being told that due to a 'significant' volume of cases, it is taking longer than expected to assess and investigate complaints. The ombudsman adds: 'We thank you for your patience and would like to reassure you that our teams are working very hard to resolve complaints fairly and as quickly as possible.' Office for Legal Complaints chair Wanda Goldwag said results have improved during 2018/19 and pledged that 2019/20 would see 'consistent and sustainable performance'.
Mark Lewis reprimand
The Solicitors Disciplinary Tribunal revealed that it thought 'very carefully' about whether only to reprimand media lawyer Mark Lewis after he used his Twitter account to wish death on people who subjected him to a torrent of antisemitic abuse. Lewis was fined £2,500 and ordered to pay £10,000 costs.
MedCo audit failures
Just 3% of companies seeking to diagnose whiplash claims have been given a clean bill of health by auditors, a progress update published by the medical reports clearing house MedCo revealed. The report stated that 60% of medical reporting organisations (MROs) were given a 'red' rating, with 37% receiving an 'amber' rating. The audit exposed a range of problems with member companies, including quality assurance, ethics and validation of experts.
MedCo said a low proportion of green-rated reports is not unusual for the first round of assessment, as firms take time to adjust systems and processes, but the organisation admitted the number given the all-clear is 'at the low end of expectations'.
'Gig economy' reform stalls
The government shied away from banning zero-hours contract work as it introduced what it claimed to be the biggest shake-up in employment law in more than 20 years. In the 'Good Work Plan', the government instead pledged to introduce a right for employees to request a fixed working pattern if they do not have one after 26 weeks of working on a non-fixed pattern.
Magic circle coy on #MeToo departures
The legal profession's equivalent of the 'Big Four' declined to follow their counterparts in accountancy by revealing the number of partners who have been dismissed from or left their firms for inappropriate behaviour. None of the magic circle – Allen & Overy, Clifford Chance, Slaughter and May, Freshfields Bruckhaus Deringer and Linklaters – would tell the Gazette how many partners had departed in such circumstances over the past four years.
Juniors angry over flexible court hours
Junior lawyers warned that they could be adversely affected by proposals to roll out early morning and late-night sittings in some civil proceedings, after the government agreed to abandon similar plans for criminal cases. The Junior Lawyers Division warned that the plans will result in increased workloads and longer working hours, and place a strain on those with disabilities or childcare responsibilities.
£40,000 Twitter damages
A former chairman of a UK Independence Party branch was ordered to pay £40,000 in damages to a man defamed on Twitter even though he did not write the offending tweet. In Zahir Monir v Steve Wood, the Honourable Mr Justice Nicklin accepted that Steve Wood had not written or approved the tweet, made from the UKIP branch account and picturing a Labour election candidate alongside two men described as 'child grooming taxi drivers'. However he held that the tweet's author, John Langley, was 'quite clearly acting as the agent of Mr Wood'.
The judgment affirms that a web post seen by relatively few people can meet the 'serious harm' test established by the 2013 Defamation Act even though viewers know that it is untrue.
Nicholas Crichton
District judge and solicitor Nicholas Crichton CBE, who pioneered problem-solving family, drug and alcohol courts (FDACs), died at the age of 75. Steve Bambrough, of the FDAC National Unit, said: 'When I first met Judge Crichton in 2003, I remember how strikingly and passionately committed he was to a justice system that gave families the best chance of overcoming their difficulties. He believed in people's capacity to change.' Crichton was the Gazette's Legal Personality of the Year in 2014.