Parents thought to be unnecessarily clogging up the courts could face financial penalties under plans reportedly being drawn up by the lord chancellor.
Dominic Raab told the Conservative party conference last month that too many civil cases were going to court and he wanted to see alternative dispute resolution used more.
Yesterday, the Sunday Times reported that Raab is drawing up plans to keep cases away from court. These include making mediation the default process in most family law disputes and making it easier to award substantial legal costs against the parent thought to be abusing the court system.
The newspaper quotes a source close to Raab, who said: 'Of the 50% of family cases that don't involve domestic abuse, [Raab] is clear they should be resolvable without going to court and he has commissioned proposals as to how he can make that happen.
'He is keen to make mediation the default. He is looking at incentives and disincentives to encourage parents to take that route. The exception is of course those cases involving domestic abuse or safeguarding issues. He thinks those should be kept under a judge's purview.'
Family mediation was the government's flagship solution to the removal of legal aid for most private family law matters in 2013. However, referrals nosedived:
Figure 8: Family mediation assessments, starts and agreements, April to June 2011 to April to June 2021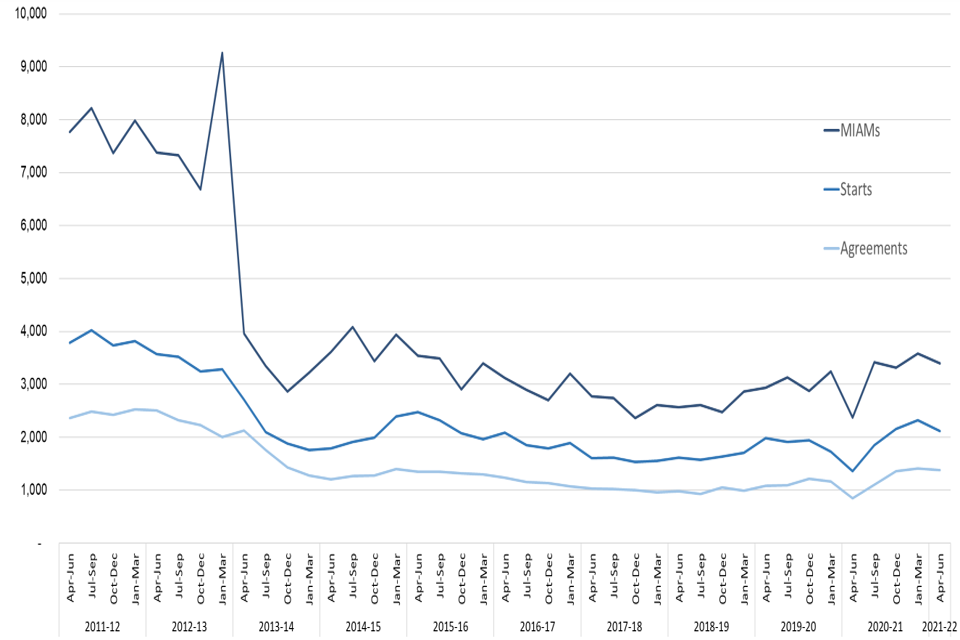 Source: Ministry of Justice
Earlier this year the Ministry of Justice introduced a £1m voucher scheme to steer eligible families towards mediation. The scheme was topped up with a further £800,000 in the summer.
According to Sir Andrew McFarlane, president of the family division, more than three-quarters of family cases eligible for the vouchers have been successfully resolved away from court.
A government call for evidence on dispute resolution closed at the end of last month.
A Law Society spokesperson said: 'There seems to be a belief among many people that lawyers necessarily mean courts, when in fact the opposite is the case. The evidence of the past decade is that taking lawyers out of the equation led to fewer cases going to mediation, and more cases going to court. With parents acting without advice and representation, they often bring misconceived arguments and irrelevant issues to court.
'The best way to keep more cases out of court and to reduce the number of inappropriate applications is not to introduce financial penalties, but to ensure that all separating couples can get legal advice and representation to guide them through the process.'
This article is now closed to comment.