Around 30 detectives and police staff have been assigned full-time to investigate the death of a former solicitor in Durham.
Peter Maine, 56, was found with stab wounds outside a sports centre on the outskirts of the city on Sunday morning.
Maine, who worked at the now-closed County Durham firm Hall & Co LLP, was married with two daughters.
Officers are continuing to go through initial witness statements and are gathering CCTV footage.
Det Chief Insp Steve Chapman, who is leading the investigation, said: 'Mr Maine's death remains suspicious but we have to keep an open mind as to how he came by his injuries. We have established a major incident room at police headquarters and we are committing the same resources we would for any homicide investigation.'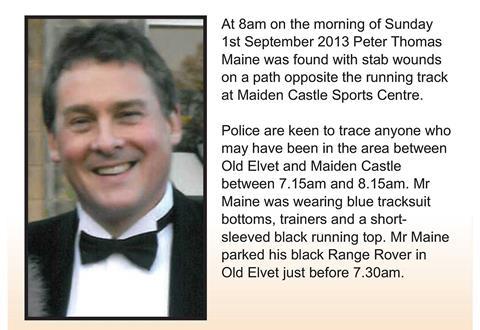 Maine was subject to an ongoing investigation by the Solicitors Regulation Authority and was awaiting a date for a hearing at the Solicitors Disciplinary Tribunal.
In a prosecution statement published in April, the SRA alleged there was a case to answer that Maine had 'acted as a solicitor in relation to transactions concerning a company which he ought to have known were dubious and thereby acted in a way that was likely to compromise or impair his independence and/or his integrity and/or his good repute or that of the solicitors' profession and/or his duty to act in the bests interests of his clients.'