The Rt Hon Lord Reed will succeed Baroness Hale of Richmond as president of the Supreme Court, Downing Street revealed today as it attempts to clear a backlog of announcements ahead of the change of prime minister and the summer recess. Lord Reed, one of the court's two Scottish justices, has served as deputy president since last June.
Before his appointment to the Supreme Court he sat in the Outer House of the Court of Session, where he was the Principal Commercial and Companies Judge, and from 2008 to 2012 in the Inner House.
He was educated at the Universities of Edinburgh and Oxford, and qualified as an advocate in Scotland and as a barrister in England and Wales. He practised at the Scottish Bar in a wide range of civil cases and also prosecuted serious crime.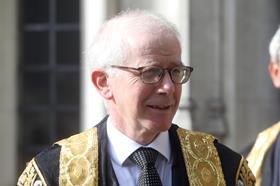 He will take up his position on Lady Hale's retirement on 10 January 2020. In a statement released by the Supreme Court this morning, Lord Reed said: 'As president I will continue to champion the rule of law, alongside promoting public understanding of the role of the judiciary and maintaining the high regard in which the court is held around the world.'
Meanwhile three new justices have been appointed to the Supreme Court bench. They are: Lord Justice Hamblen, Lord Justice Leggatt and Professor Andrew Burrows. They join the Supreme Court as justices on 13 January, 21 April and 2 June 2020 respectively.
Lord Jusice Hamblen (Sir Nicholas Hamblen QC), was called to the bar in 1981 and specialised in maritime and insurance law. He was appointed a lord justice of appeal in 2015. Lord Justice Leggatt (Sir George Leggatt QC) was called to the bar in 1983, practising commercial law. He was appoiinted to the Court of Appeal in 2017. Former law commissioner Andrew Burrows QC, is a senior research fellow at All Souls College, Oxford and one of England and Wales' foremost legal scholars, particularly known as an expert on the law of restitution.
Technically the appointments were made by the Queen on the advice of the prime minister and lord chancellor, both on the verge of leaving office.
The Supreme Court, which marks its 10th anniversary in October, currently has no solicitor judge on its bench.