Magic circle firm Slaughter and May has selected six startup businesses from 50 applicants for its first legal technology incubator, dubbed Slaughter and May Collaborate.
Each business will have access to the firm's lawyers, and client and expert panels for product testing and feedback, among other services. Two Slaughter and May mentors will be allocated to each firm, one from the firm's Knowledge or Innovation teams and a lawyer from a relevant practice area.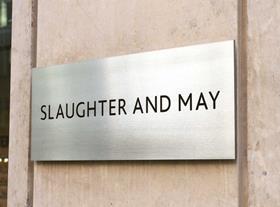 The six are:
Tabled: a platform which helps lawyers manage tasks and projects by automating workflows and assigning tasks to team members, providing a full picture of the team's legal work.
StructureFlow – a platform to help lawyers and their clients quickly and easily visualise complex legal structures and transactions.
Clarilis – a document automation tool designed for even the most complex of legal documents without the need to amend existing precedents or templates first.
JUST: Access – a transcription and dictation solution using AI and natural language processing to produce transcripts and related analysis.
Logiak - a tool which allows users with no coding experience to create complex logic/rule-based systems, for example to create an app to assist in working out if a particular law or regulation applies in a certain situation.
LitiGate – an AI-powered litigation platform which uncovers hidden insights, provides a bird's eye view of each case and automates day-to-day tasks.
Nilufer von Bismarck, partner at Slaughter and May said: 'We are very pleased with the businesses we are taking into Collaborate in this first cohort. They fought off some very strong competition from a high calibre of applicants. We look forward to working with some of the best legal tech entrepreneurs to bring new tools to the legal sector.'
Slaughter confirmed that the firm will not take an ownership stake in any of the businesses.