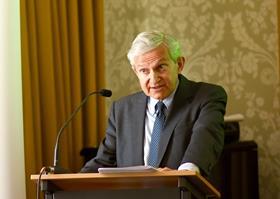 Regional firms lobbying for their own 'high level commercial' category within guideline hourly rates (GHRs) have been rebuffed by the Civil Justice Council in its final report on GHRs. The report was officially received by the master of the rolls, Sir Geoffrey Vos, last Friday.
The final report has stuck by all of the proposals in its interim report, published for consultation in January. The rates, frozen since 2010, are used in summary judgment of costs. But any change has a wider impact as the rates have become the accepted default figures for costs calculations.
In the consultation, the final report notes, 'Some respondents criticised the lack of a proposal to distinguish outside London between high level commercial work and other types of work, adding that this did not reflect the very wide range of different types of work undertaken nationally and the quality of the cases that are heard in the major centres outside London in the BPC [business and property courts], and which are encouraged to be heard there.'
But the regional firms' case failed to convince the CJC's working group. 'The obstacle to this submission is that the specific analysis of BPC work outside London did not support a separate GHR,' it states.
Despite this rebuff, the GHR working group, led by Mr Justice Stewart, has recommended an increase in the rates for every category of fee earner. This is in contrast to a 2014 CJC report, rejected by Vos's predecessor Lord Dyson, which proposed a boost for inner London rates but an overall decrease of 5%.
The 2014 group's work was affected by poor access to data and a budget that did not stretch to necessary further research, its members complained.
By contrast, Anthony Gold partner David Marshall, one of three members nominated by the Law Society for the latest working group, told the Gazette: 'I am very pleased that we have sufficiently evidence-based GHRs to put before the [master of the rolls] for his consideration. The working group considered all the points made in consultation carefully.'
The CJC recommends splitting what was traditionally 'City' work into a higher and lower category ('London 1' and 'London 2'). Another category, 'London 3' reflects higher costs in the wider London area.
Vos will now consider a recommended increase for London 1, 'heavy corporate and commercial work', to £512 for solicitors with over eight years experience ('grade A', up 25.2%), and to £186 for a paralegal or trainee ('grade D', an increase of 34.8%). The grade D rate in all other categories would be set at £126-£139.
London 2, covering 'business property and courts' work (BPC), would see a 17.8% increase for a grade A solicitor to £373.
The CJC recommends an amalgamation of two categories outside of London. In category 'National 1', major cities and legal centres are joined by what was 'other cities' (currently 'National 2'). The grade A rate in this category increases by 20.2% to £261. 'National 2' would see the rates' biggest percentage increase for four-to-eight years qualified solicitors (23.2%), set at £218.
Marshall said: 'Possibly some people will not be happy with our conclusions – as we point out in the final report, most paying parties or their representatives thought the recommended increases were too high … and most receiving parties or their representatives thought that proposed increases were not enough. In the end though, we were satisfied that the context and available information justified the GHRs proposed in the interim report.'
The Law Society said it 'broadly supports the recommendations'. Head of justice Richard Miller added: 'Although data on which to base the review was somewhat limited, we believe that its analysis was robust and the recommended rates are reflective of the hourly rates in use today.
'However, we continue to reiterate that GHRs are just one of many areas of civil justice being reviewed and reformed, so we would call for the new proposed rates to be seen as an interim measure that will provide much needed clarity to assist fee earners, law firms and costs judges in the short term.
'It is encouraging that the final report recommends that GHRs should be guided by the outcome of the review of fixed recoverable costs.
'We continue to call for a firm commitment to a more comprehensive review in three years' time to take into account, amongst other things, the effect of Covid-19 on what the rates should be, and the impact of ongoing reforms.'