International firm White & Case has continued the City's round of inflation-busting salary increase for juniors, dangling a 7.7% rise to £140,000 in front of NQs from January. This follows last year's rise from £105,000 to £130,000, the announcement of which was followed by six-figure offers around the City. NQ pay at Quinn Emanuel Urquhart & Sullivan already stands at £146,000.
Figures released by White & Case today show Year 2 trainees and NQs receiving the highest percentage increases of all six declared bands. A year 1 trainee will receive a rise of 4% to £52,000, while salaries two years after qualification will rise by 6.6%. Rises for those with three to nine years PQ will be discretionary but 'as competitive', the firm said.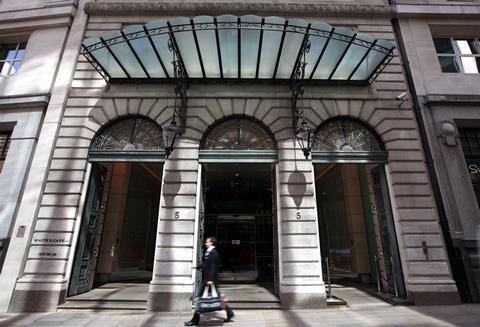 A spokesperson added: 'White & Case is celebrating 50 years in London, where we are establlished as an elite global firm offering highly attractive careers to ambitious and talented lawyers. The salary increases, which are effective from 1 January 2022, are another demonstration of our position as a leading law firm globally and in the City.'
As little as two years ago only a small handful of US-based City firms offered NQ salaries into six figures. The current pay race is driven by soaring demand for M&A work and big-ticket litigation following the pandemic standstill.