The managing director of a Manchester firm known for its personal injury acquisitions says he wants to build a 'proper, heavyweight brand' in the north-west before branching out nationally after buying a 110-year-old East Lancashire practice out of administration.
Solicitor Abdul Hussain says Roebucks Solicitors is AWH Legal's first non-PI acquisition, which opens the door to other areas. He told the Gazette: 'Previously our focus has been on PI law firms. However, we recognise to build a sustainable business model for the future we need to diversify.'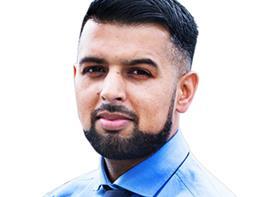 Hussain said Roebucks 'hit the sweet spot' in terms of AWH's strategy, as Roebucks is not far from Manchester and allows AWH to diversify its services.
Roebucks covers family and children law, power of attorney and court of protection, wills and probate, conveyancing, criminal litigation, road traffic law, personal injury, payment protection insurance and mental health. It has three legal aid specialist help contracts.
Hussain said banks seem to regard law firms as being high risk. 'The Roebucks business was very good. But if the bank is not going to support them there is not much else they can do. We came in and stepped in.'
No financial details of the acquisition were released. All of Roebucks' staff and fee-earners have transferred to the new firm, which will be known as AWH Legal t/a Roebucks.
Hussain describes AWH as a 'direct, consumer business...not a commercial corporate-type outfit'.
In 2017 the firm purchased the assets of Carter Law Solicitors Limited, which specialised in family law, wills, immigration and PI with a focus on road traffic accidents. Last year it bought one of the country's leading industrial disease specialists, Roberts Jackson, out of administration.
Hussain said: 'The PI market has undergone massive change over the last few years. I have been involved in it since 2008. These changes are not going to stop. As a sector, PI is very volatile and vulnerable to more changes coming into place.
'For me as a business, if I'm going to continue in PI and have a sustainable business in future, for us we knew that space is going to be difficult to operate in over the next few years. We need to get into these other areas to have a sustainable business. We will continue to acquire PI work and firms but also recognise the risk for the future. Now is the right time to go into other areas.'
AWH is currently speaking to one PI and two private client practices.