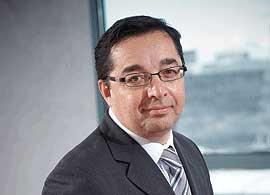 The embattled boss of Australian firm Slater and Gordon has denied speculation that he is set to leave his role. Managing director Andrew Grech (pictured) this week stated his commitment to the firm as it seeks to restructure and stem massive losses.
In a statement Slater and Gordon denied speculation from inside and outside the firm that Grech may be about to leave after 17 years in the post.
The firm said: 'The board and other stakeholders believe Andrew has the skills and experience needed to lead the company through this period of change. The board believe that Andrew is key to stability at Slater and Gordon, and also to our ability to improve our business performance in the UK. Andrew is highly committed to the role and wants to be a part of the solution.'
Grech leads the firm both in the UK and Australia and has been at the forefront of the expansion drive that led to so many acquisitions in this country.
But he has also overseen a dramatic decline brought about by the disastrous purchase of the professional services division of Quindell, and re-adjustments of the company's profit figures.
New lenders were found earlier this month who could in theory install new management, but that would not appear to be likely.
Having reported massive losses last year, the firm struggled to recover and wrote off £216m from its value in half-year results published last month.
Grech himself has been one of the biggest casualties of the firm's difficulties: according to the 2016 annual report to shareholders he owns around 6.75 million ordinary shares in the business. That stake was worth more than £47m when the share price reached an all-time high of almost A$7 in March 2015, but with the shares now worth just 13 Cents his shareholding is valued at less than £900,000.
While Slater and Gordon is retaining its management, another listed firm with a recent history of difficulties has lost two leading figures.
Simpson Millar, owned by Fairpoint Group, confirmed this week that managing partner Peter Watson and head of medical negligence Neil Fearn have both left.
A spokesman for the firm said: 'Following the acquisition of Simpson Millar and Colemans CTTS, and along with the decision to withdraw from the debt market, it is inevitable that the business will see members of the former management teams leave the business.
However, the firm is in a good position to focus on the future and look for opportunities to develop and grow. Simpson Millar is a well-respected and successful business and we are very fortunate to have a large team of talented lawyers and legal services professionals that will help us realise our future ambition.'
The Fairpoint Group is currently going through a consultation with staff to review around 300 roles, and earlier this week warned that 2017 will be a 'year of transition' where financial performance is set to be worse than last year.