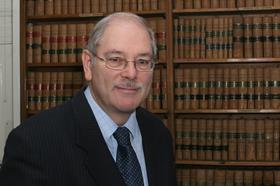 A nationally recognised specialist in ecclesiastical and charity law has died at the age of 72.
Tim Berry, senior partner at Somerset firm Harris & Harris since 1975, died last week following a short illness. He was married with two sons.
Berry became a partner in the firm upon qualification as a solicitor in 1970 and would serve as Diocesan Registrar to the Diocese of Bath and Wells from 1993 to 2015. He fulfilled the same role to the Diocese of Bristol from 1997 until 2015.
During a career spanning 50 years, Berry played a leading role in the growth of Harris & Harris, in particular the firm's commercial property and specialist ecclesiastical and charity law practices.
In a statement, the firm said: 'Tim's enthusiastic, incisive and thoughtful approach was appreciated by his clients and colleagues alike.
'Tim was a trusted advisor who approached his work with uncompromising integrity, empathy and humility. His approach personified the guiding principles of our firm which are his lasting professional legacy. Tim's loss is immeasurable to all those that knew him, personally and professionally.'
Roland Callaby, the present Diocesan Registrar of the Diocese of Bath and Wells and the Diocese of Bristol, succeeds Berry as senior partner of Harris & Harris.