Mark Heptinstall, deputy district judge and recorder, Slater Heelis LLP, Manchester
'Fortunately we were well prepared for home working with digitised files and the ability to deal with correspondence and billing remotely - without too much fuss. We have our own laptops with video conferencing ability and we were due to go paperless in a few months' time anyway. The real change has been in educating ourselves about the different platforms for communication given court hearings are now all remote by default, something unthinkable in family cases only two months ago!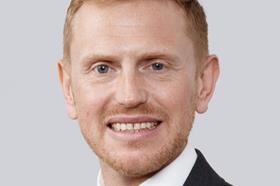 Other than fee earning and running the firm, a lot of my time is dedicated to the health and wellbeing of our staff. Those that live alone or working from home with young children can find it challenging to balance home schooling, particularly when both parents are working. Keeping-in-touch calls are essential, to reassure the team that they are not alone and we are all in this together.
To finish the week, we have a glass of Prosecco on Teams on Friday at 4pm along with a de-brief about what's been happening in our own worlds. Last week I put together a quiz for a bit of light-hearted fun and the Quiz Master appeared in fancy dress!'
Nichola Evans, Law Society council member for FOIL, Ward Hadaway, Manchester
'Four months after I joined Ward Hadaway as a commercial litigation partner we moved to the "new normal". I have been a fan of agile working for a number of years so the prospect of home working did not worry me – but other aspects of the lockdown did, including how to get to know colleagues better when we were all working at home.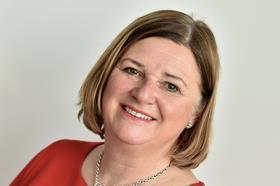 I have been involved in drafting material for our Covid-19 hub which has given me a fabulous opportunity to get to know my colleagues, especially those who are based in our Newcastle and Leeds offices. While drafting content for the hub, we also swapped tips on hot topics such as fitness regimes and home schooling regimes. It has been lovely to discover how collegiate Ward Hadaway is - as well as get very useful life hacks!
Litigation continues to be busy and we are adapting to the new practices being adopted by the courts including remote hearings. The team is in touch all the time by WhatsApp/Zoom/Teams/Facetime as well as normal calls. We end the week with team drinks by Zoom. Through the team drinks I now know that members of the team cross-stitch, bake and even produce punk podcasts!
The lockdown won't last forever and what I do want to take from this are the positives - great team spirit, kindness and collaboration.'
Mark Harris, director, NWSSP Legal & Risk Services, Cardiff

'On Monday 16 March 2020, I had the responsibility of asking our 110 staff via Whatsapp to work from home until further notice. Six weeks later we are still in lockdown and I am both amazed and yet completely unsurprised at how well my brilliant friends and colleagues have maintained and even accelerated our service provision to the NHS in Wales.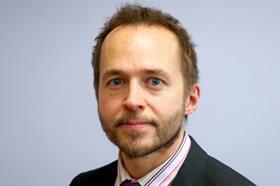 At this time of national crisis, the attention has rightly been on frontline NHS workers, carers and other key workers. But many of our staff have been working very hard to make sure that some of the things that hit the news, actually work in the real world. We have supported the establishment of field hospitals and completely new ways of providing health services, the purchase of protective equipment, the implementation of policy and indemnity provision. Right now and always, lawyers are right there in the middle of everything. The commitment and quality of our staff has remained steadfast.
What is amazing is that we have done all of this, without even crossing our doorsteps. For me personally, working from home has been a feature for nearly twenty years. But for many this is a brand new experience. Some of us have very young children at home, others (like me) have grown-up children, competing for key spaces in the home, or access to internet bandwith! Others have vulnerable family members who are a constant worry. When this is over, the new normal will be very different, but we have taken to it like ducks to water and the only way is straight ahead.'
Art corner
J.C. Bradwell, Law Society Art Group member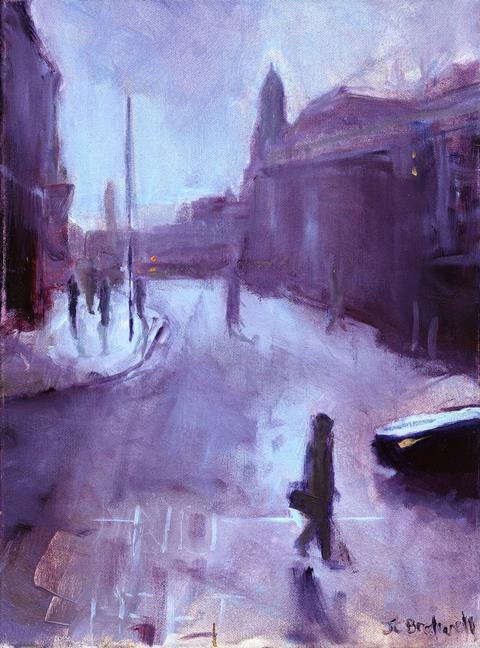 Going to Work, Leeds, Yorkshire
Painted oil on canvas. View from top deck of bus, Headrow, Leeds, West Yorkshire.
'The bright early morning winter sun, mixed with a lifting fog, caught my immediate attention and gave the city centre a wonderful glow.'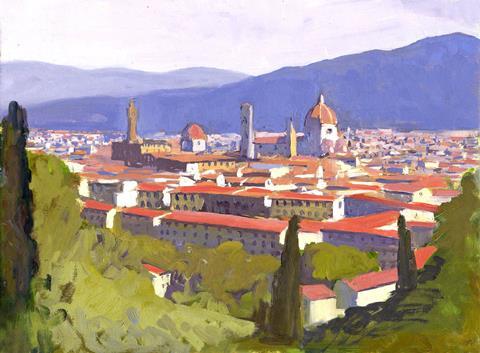 Florence
Oil on board.
'I spent a week painting this view of Florence, en plein air in the Italian summer heat.'