In law, typical career pyramids appear designed to exclude the possibility of children. Eduardo Reyes takes advice on how to handle a break.
1 Not just for babies
'Parental leave is a statutory right provided that you meet the criteria,' clinical negligence solicitor-parent Elizabeth O'Mahoney reminds us. 'Do not be put off if your firm has not marketed this as an idea to you.' That right, she points out, is not just about caring for babies, the birth of which isn't really a fit topic for negotiation with an employer.
'You can take 18 weeks for each of your children up until your child reaches 18,' O'Mahoney adds, 'so there is no rush to pile it all in one basket at one time. This causes less disruption to your team too – it's like an added annual leave but of course without pay.'
O'Mahoney plans to take a period of leave as her second child approaches school age: 'She has cerebral palsy so needs some intensive physio to get her confidence really in place. My firm [BL Claims] has been incredibly supportive and forward thinking.'
2 Men, take it too
When men hear 'parental leave' they routinely think of a fortnight off after the birth of a child – a convenient length of time, given many babies really 'wake up' in week three. Consider taking longer. 'As a man, do take more than the two weeks,' advises Gazette sub-editor Ryan Southwell, recently returned from leave following the birth of his second child. 'You need to be there for the terror and elation.'
'Be open and proud about your decision,' Lewis Silkin employment partner Karen Baxter urges fathers taking longer. 'The more visible role models we have showing the profession that paternity leave is possible, the more normal the phenomenon will become. Stepping away from work for a period of time can give you a new sense of perspective, and you don't get a second chance to be there for your children while they are little. '
3 Plan your time off
You can't just pretend it won't make a difference – leave in a way that minimises the stress of your temporary departure.
Get your team on board in advance, O'Mahoney says. 'The more time you are able to plan this the better. This makes for smooth handovers and a happy, understanding team. There may be some resistance from those who don't qualify, agree or need parental leave, but if your firm supports you and makes clear why this right is available, I am pretty sure everyone will be amenable.'
Aside from a period covered by maternity pay, plan to save. Also, have a frank talk with the firm, O'Mahoney adds, as 'there may be some kind of incentive - maybe time off instead of a bonus. Always check your contract!'
4 Plan your return
'Think about a strategy for your return,' Baxter counsels. 'Identify a buddy in the office who can look for work opportunities for you when you return, whatever level of seniority you are at. Get in touch before you return so that you can get back up to speed as quickly as possible.'
On returning, Baxter adds: 'Don't try to snatch back all your client relationships on day one. Acknowledge the role your colleagues have played in looking after your clients and ease yourself back in. Accept the fact that some client relationships will have changed, and use the opportunity to develop new ones.'
5 Leave (some) stuff at work
Not your unwashed gym kit, but your expectations – especially if it's your first bout of leave. As a high-flying professional, perhaps with responsibility for other high-flying professionals, you'll be used to a direct correlation between logical effort and outputs. Young children are… well, inefficient machines in this regard. Home alone, intensely trying to perfect their responses to the world to some notional deadline is not a recipe for a happy time away from work. Some days it's better to sit in the park reading the FT while the little one eats dirt and tortures ants nearby.
Talking Point
BLAZING A TRAIL TO EASE URBAN STRESS
All week you handle a cacophony of client demands, pinging emails and, on the way home, grumbling train passengers. What's more, you endure all this sitting down, which really niggles your piriformis muscle. You try a lunch-time run but the asphalt gives you shin splints.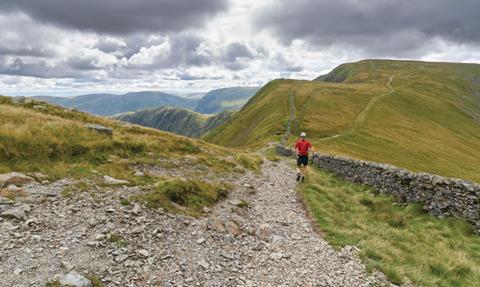 Trail running at the weekend is the antidote to noisy urban stresses. On light summer mornings, it's possible to scamper across grass, muddy trails and whimper up chalk hills to reach places with evocative names such as Mount Caburn and Firle Beacon – all before sunrise. Birds chirp, sheep chew and a few walkers say 'hello' – and they're the only sounds for two to three hours. Bliss.
Most importantly, running on softer surfaces is kinder on your legs – and, do it for long enough, your piriformis will stop sulking. Mind you, a pair of trail shoes, with multi-directional lugs, are a must: they offer stability, protection and, provided they're not too aggressive, you can also use them on short road sections. Another essential piece of equipment is a light windproof jacket when you're on the hills and the weather is changeable.
But how do you fit trail running into your crazy hours? Perhaps at the beginning or end of your work-at-home day. Or, if the early weekend starts are unappealing, why not try a trail race (anything from 10k up to ultra-marathon) and use it as a quality training session.
Study a map and plan your route. In this respect, a watch with combined GPS and heart rate is essential. As well as distance, you can keep an eye on your heart rate as you should run by feel rather than pace.
Expect to burn off your corporate lunches too, so carrying an ultra-light 5-litre backpack for gels and water is essential.
Enjoy the break from your competitive work environment. As you will discover, trail races are very sociable, welcoming gatherings of like-minded people.