Lawyers all over the world risk losing their liberty – and worse – when they seek to uphold fundamental human rights. Jonathan Rayner reports
THE LOW DOWN
Across the world in places once deemed 'safe', the rule of law is under pressure to give way to populism and authoritarianism – meaning lawyers' clients and their own support for justice are putting them personally at risk. In Colombia, 120 lawyers were murdered in 2017. President Erdogan's crackdown in Turkey has seen 22 advocates put on trial for 'terrorism', and the list of countries where similar incidences are occurring is long – including China, Russia, Iran, Azerbaijan, Bahrain, Venezuela, Morocco, Peru, the Philippines, Ecuador, Nicaragua, Saudi Arabia, Myanmar and Kenya. Yet international solidarity between lawyers is strong, and many are organising to protect and support persecuted colleagues in a battle for justice that can feel like it must be fought street-by-street.
English lawyers, and this is perhaps to over-dramatise matters, have been at imminent risk of violent death since 1591. That was the year that Shakespeare wrote Henry VI part two and placed the words, 'The first thing we do, let's kill all the lawyers', into the mouth of a rebellious Dick the Butcher. Some 427 years later, the Day of the Endangered Lawyer 2018 was marked by lawyers in 35 European and other cities worldwide. They were showing solidarity with their persecuted Egyptian counterparts, the same way that in the previous two years they had demonstrated their support for imperilled lawyers in China and Honduras.
Egypt, China, Honduras – three nations on three different continents. The threat to lawyers, although small in the UK, is global. Dick the Butcher's rantings have been supplanted by something altogether more sinister: extra-judicial executions, state-sanctioned wrongful imprisonment and harassment, electronic surveillance and an autocratic disregard for the rule of law. Sir Patrick Elias, president of the Alliance for Lawyers at Risk and a retired Appeal Court judge, says the problem is widespread: 'It flourishes wherever there are dictatorships.'
The alliance, its website states, is 'an independent UK-based pro-bono network of prominent members of the legal community that provides moral and legal support to lawyers and human rights defenders working in precarious circumstances'. It was founded in 2010 by Sir Patrick's predecessor as president, the late former Lord Justice of Appeal Sir Henry Brooke.
The alliance provides legal support to, in particular, Peace Brigades International (PBI), a body that for 35 years has been sending unarmed volunteers to the world's troublespots to accompany, on a daily basis as they go about their business, human rights lawyers under threat of death. Sir Patrick explains: 'Shadowing individual human rights defenders in this way is effective because it lets governments and paramilitaries know that someone from the international community is watching and will hold them accountable. Nonetheless, there were 312 reported deaths of human rights defenders across 28 countries last year.'
Land rights is one of the commonest issues faced by defenders. 'It's like in a 1950s cowboy film,' Sir Patrick says, 'where humble farmers are forced to sell their land for a pittance to powerful cattle barons. Marauding thugs make life hell, from harassment through to death, for anyone who resists.'
'Putting the frighteners on'
The European Association of Lawyers for Democracy and World Human Rights (ELDH) has participating lawyers in 21 countries. It is chaired by barrister professor Bill Bowring of the School of Law, Birkbeck College, University of London. He talks of a case in Russia where lawyers were accused of bribing a witness. 'The authorities were just trying to put the frighteners on the defence team,' he says. 'The authorities' actions gave out a strong signal that they don't like the look of what's going on. They're scared of the truth coming out.'
Bowring moves on to Turkey and Istanbul's Heavy Penal Court, which he attended in September of this year to witness the prosecution of 22 Turkish advocates accused of terrorism. 'They are accused of terrorism because they are representing people charged with terrorism. It is guilt by association, with nil regard for everyone being entitled to a fair defence and trial. Also by association, because I have publicly deplored the treatment of the 22, I stand accused of being a member of the PKK [the Kurdistan Workers' Party]. Membership, even alleged membership, of the PKK under President Erdogan's increasingly authoritarian regime is hazardous even for an international observer like me.'
Law Society Human Rights Committee chair Tony Fisher attended a hearing in Istanbul's central criminal court on 5 December 2017. He was monitoring the trial of a group of mainly Kurdish lawyers arrested in November 2011 and charged with terrorist offences related to their representation of Abdullah Ocalan, the leader of the PKK.
CLOSE TO HOME
Lawyers are safe from attack in the UK. Aren't they? The murder of Northern Ireland solicitor Pat Finucane by loyalist paramilitaries is notorious in part for the probable involvement of the British security forces. But Finucane, whose clients included members of the IRA, was shot dead almost 30 years ago (1989).
Threats to UK lawyers are clearly not of the order of lawyers working in Turkey, China, Russia and Colombia, but the willingness of parliamentarians and sections of the press to demonise lawyers is cause for concern. Critics of such demonization point to the murder of Jo Cox MP during the EU referendum campaign as evidence that strong rhetoric can have tragic unintended consequences.
As the Gazette went to press, the thinktank Policy Exchange was hosting an event: 'The legal pursuit of veterans and the effects of lawfare on British Fighting Power.'
Speakers include Johnny Mercer MP, and General David Petraeus. Mercer is part of a group of MPs for which singling out lawyers for criticism, because of their identification with certain clients, is a campaign. His colleague, Sir Henry Bellingham MP, for example, has referred to 'extreme nationalist-leaning individuals in the Northern Ireland justice system', in clear reference to Northern Ireland's then-director of public prosecutions.
Several solicitors in Northern Ireland have told the Gazette the security forces had advised them to review their personal security following credible intelligence of a threat. On this count, at the very least, some Hansard debates make for uncomfortable reading.
Eduardo Reyes
In his report of the trial, Fisher paints a picture of a nation undergoing seismic political and social changes. Tens of thousands of alleged supporters of a failed coup in July 2016 have been arrested, he writes. 'Approximately 20 judges have presided over what is becoming a very lengthy trial. Some of those judges are now in custody themselves, as is the original prosecutor. Nearly 400 civil society organisations have been shut down, including a number of lawyers associations.'
He also describes how the efforts of lawyers to represent their clients are hampered by the authorities moving clients to distant prisons. Appointments are delayed for up to eight hours or cancelled at the last minute. Numerous imprisoned lawyers have also complained about torture.
Front Line Defenders (FLD), founded in Dublin in 2001, aims to protect human rights lawyers and defenders working on the frontline – which is to say, working on the frontline of the conflict between those who are intent upon subverting the rule of law through violence and other unconstitutional means, and those who are courageous enough to stand up to them.
In common with the alliance and ELDH, FLD works across the globe. Its website records that FLD has recently intervened in Iran, Azerbaijan, Bahrain, Venezuela, Morocco, Sri Lanka, Egypt, Brazil, the United Arab Emirates, Peru, the Philippines, Ecuador, Nicaragua, Saudi Arabia, Myanmar and Kenya. And that is before the usual suspects: Turkey, China and Russia.
Such lists tell only half the story. In 2017, FLD supported 2,225 human rights defenders in 102 countries and undertook urgent appeals on behalf of 423 individuals at risk in 66 countries. It made 484 protection grants totalling around £1.1m to 377 individuals and 107 organisations at risk in 76 countries. And it carried out 70 field visits to 40 countries.
The Law Society is also very active in its support of imperilled lawyers. Led by international human rights policy adviser Dr Marina Brilman, its Lawyers at Risk programme supports lawyers who are hindered – either through threats, intimidation, unsubstantiated disciplinary measures, disappearances, or murder – in carrying out their professional duties.
This support is provided through intervention letters sent to state authorities concerning specific cases, but also through substantive policy work to address the structural causes that give rise to such threats. 'For example,' says Brilman, 'we submit amicus curiae briefs [a person, not a party to the litigation, who volunteers or is invited by the court to give advice upon some matter pending before it] to domestic courts and international tribunals to change practices that are detrimental to the effective functioning of the judicial system.'
The International Action Team, a group of volunteers that consists of practising solicitors, barristers and law students, supports the work of the programme.
In accordance with the United Nations Basic Principles on the Role of Lawyers, the programme supports human rights defenders who exercise the functions of lawyers and/or legal assistants. Brilman adds: 'We further support those lawyers who have lost their licence to practise, have been disbarred, or have not been admitted to the bar for reasons other than proven misconduct.'
As well as the rights of lawyers, the issue of detention without trial has also come under the spotlight. During the Northern Ireland Troubles, the UK was routinely referred to the European Court of Human Rights. The policy of internment was the most notorious offence. It began on 9 August 1971 with the detention of 342 mostly republican sympathisers and ended in 1975 after 1,900 people had been detained without trial.
The UK government stood accused of violating articles 3, 5 and 6 of the European Convention on Human Rights, which are respectively the prohibition of torture, the right to liberty and security, and the right to a fair trial. The European Commission on Human Rights in 1976 ruled that the treatment of some detainees amounted to torture, while the ECtHR later concluded that the treatment was 'inhumane' but not torture.
The case of Northern Ireland lawyer Pat Finucane, murdered in 1989 by loyalists with – it is alleged – the collusion of the British state, appeared before the Supreme Court in June of this year. The Finucane family is appealing a 2015 Belfast Court of Appeal ruling that a 2011 decision to reject a public inquiry into the murder was lawful. There have long been widespread local and international allegations that proceedings have thus far been a 'whitewash' of the British state's involvement in extrajudicial executions. The Supreme Court's judgment is awaited.
Persecution in Colombia
No discussion of lawyers at risk is complete without reference to Colombia, a country that in 2016 finally ended a civil war that had lasted 52 years, cost an estimated 220,000 lives and displaced six million people. Human rights lawyers were particularly at risk, with an average of one killed every month throughout the conflict. Even once the conflict had ended, the murder rate spiked to 120 in 2017.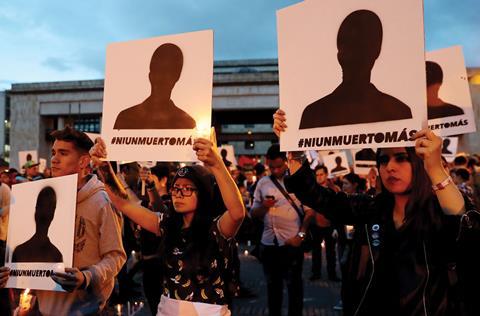 Reinaldo Villalba has been a member of the Jose Alvear Restrepo Lawyers' Collective (CCAJAR) for 18 years and has had direct experience of the persecution suffered by human rights lawyers in Colombia. Writing on PBI UK's website, he says: 'There are enormous risks that come with empowering victims and communities who have been subject to human rights violations because we [the lawyers] don't benefit from state protection… That is to say, even though the state provides us with some security measures, such as an armoured car or a bulletproof vest, at the same time other arms of government attack us, stigmatising us as defenders of terrorism, as auxiliaries of guerrillas or subversives, and portraying our human rights work as a threat.
'The government considers the act of denouncing human rights violations and seeking justice in international courts to be destabilising to the country. It doesn't want to understand that the work of human rights lawyers seeks to bring the Colombian constitution to fruition, in the sense of us being a society with a democratic rule of law. These are the principles we are striving for, and it is those who violate human rights who destabilise the state, not we who denounce these violations and seek to sanction those responsible.'
Law Society council member professor Sara Chandler has long campaigned on behalf of human rights lawyers in Colombia. She is one of the leaders of the Colombia Caravana, a delegation of European and other lawyers who visit the country every other year to collate information and express solidarity with their Colombian counterparts. The Caravana has enabled around 275 lawyers from 18 different countries to visit Colombia during the last 10 years to support human rights on the frontline. She spoke on behalf of the Caravana at the 40th Anniversary conference of CCAJAR – the collective to which Villalba belongs – in Bogota last month.
'I was in the presence of over 500 human rights defenders from all over Colombia to celebrate the tremendous history of the CCAJAR lawyers, alongside the founder members who are still practising law today to defend the poor, the dispossessed and community defenders of human rights,' she said. 'It was a privilege to be part of the celebration, and I was proud to have brought the international legal community into the embrace of so many human rights defenders.'
'The main concern of the conference participants was the fragility of the peace process and transitional justice, because assassinations of human rights defenders have increased as the paramilitary groups of past years continue to carry out their attacks with impunity.'
Villalba ends his article on a moving note: 'I am over 50 years old now, and my hopes for the future are to see a different Colombia, a Colombia where human rights are respected, authorities are absolutely committed to seeing that the majority of the population enjoy these fundamental rights, and where everyone can carry out their work without fear of persecution.
'I'd like to live with my family in peace; I'd like to drive a vehicle without looking in the mirror to see if I am being followed; I'd like to know that I can go and buy bread in the morning without the fear of being assassinated on the corner; I'd like to see my wife and sons acting more calmly, and not telling me that people were taking photographs or filming them, following them, even in a shopping centre that afternoon, as happened over and over with the DAS [state security service]. I'd like to visit my parents; and finally, I'd like to live out my last days in peace, looking through a window, fishing and writing about my experiences.'