Assets and contracts created with blockchain-type encryption technology have validity under existing English law, a high-powered group of legal experts chaired by a senior member of the judiciary asserted today. A 46-page legal statement published by the UK jurisdiction taskforce of the LawTech Delivery Panel concludes that:
Cryptoassets, including but not restricted to, virtual currencies, can be treated in principle as property; and that
Smart contracts are capable of satisfying the requirements of contracts in English law and are thus enforceable by the courts. Statutory requirements for a signature can be met by techniques such as private key encryption.
The statement, which follows a six-month consultation, was widely welcomed as providing legal certainty to a fast-growing sector of the economy. It is also likely to boost England and Wales as the jurisdiction of choice for agreements based on encryption technologies.
Publishing the document in the City of London this morning, Sir Geoffrey Vos, chancellor of the High Court, described the initiative as 'a watershed for English law and the UK's jurisdictions. No other jurisdiction has attempted anything like it.'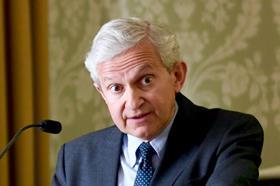 He stressed that the taskforce had produced a statement of 'not what they would like the law to be, but what they believe English law to be now.'
Without naming names, Sir Geoffrey said that 'Other jurisdictions have addressed the problem differently, starting with regulation and remedies, and worked backwards.' However 'There is no point in introducing regulations until you understand the legal status of the asset class you are seeking to regulate.' The taskforce has asked the Law Commmission to recommend if any legislation would be desirable.
Also at the event, the lord chief justice, Lord Burnett of Maldon, said the statement shows the ability of the common law to adapt to new concepts and that the courts were well placed to handle any disputes. 'Many believe smart contracts will not require the intervention of lawyers, much less of judges. I very much doubt that,' Lord Burnett said.
The Law Society said the statement demonstrates the flexibility of English common law to grow and adapt. 'It will increase confidence amongst law firms to adopt new technologies and among investors to invest,' said Simon Davis, president.
Adopting new technologies could drive productivity growth in the legal sector up from 1.3% per year to 2.7% per year, Davis said. 'And every £1 spent on legal services supports £1.39 in spending across the entire UK economy - a contribution that could be boosted by continued investment and strategic support for legal technology.'