Less than 24 hours after the prime minister handed the justice brief to solicitor David Gauke as part of a cabinet reshuffle, the new lord chancellor says he has begun the process of making parole decisions more transparent.
Gauke told MPs today that he agreed with his predecessor David Lidington's assessment that there is a 'strong case' to review transparency in making parole decisions and how victims are appropriately engaged. This follows widespread concern at the Parole Board's decision to release serial sex attacker John Worboys from prison.
Worboys, a London black cab driver, was jailed indefinitely in 2009, with a minimum term of eight years, for drugging and sexually assaulting female passengers. He will be released from prison at the end of this month following a decision by a three-member Parole Board panel.
Describing his first day as justice secretary, Gauke said he has already met Baroness Newlove, the victims' commissioner, and Professor Nick Hardwick, chair of the Parole Board. He has instructed officials to establish a review to examine the case for changes in policy, practice, the Parole Board's rules, other guidance and procedures including the Victims' Code.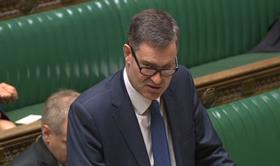 The justice secretary said: 'It is a priority for this government that victims of rape and sexual assault have full confidence in the criminal justice system. Sentence lengths for these horrific crimes have increased by over 30% since 2010 and more victims are coming forward, but there is still more to do.'
Gauke stressed that the Parole Board should remain an independent body, responsible for making decisions about the ongoing risk that individuals pose after serving their tariff.
Victims of the crimes for which Worboys was convicted have a statutory right to receive information about parole hearings and decisions under the Victim Contact Scheme.
Gauke confirmed that those who opted to remain in contact via the scheme were informed of the parole hearing. Those who chose to be informed of the board's decision by phone or email were contacted on 3 January. One victim did not receive the email. Letters were sent immediately to those who requested to be informed this way. Some victims chose not to be contacted. The National Probation Service has no record of any discretionary contact requests from victims of alleged crimes are not covered by the scheme because they were not prosecuted.
Gauke said: 'However, while it appears that the correct procedures were followed, the fact that some victims learned of the decision from the media suggests that there is a need to review these procedures and examine whether lessons can be learned and improvements can be made.' The review will be completed by Easter.
Gauke spent nearly an hour in the House of Commons chamber this afternoon answering questions about Worboys' case, the Parole Board and the review. Neither Gauke nor MPs discussed the government's long-awaited review of the Legal Aid, Sentencing and Punishment of Offenders Act 2012.