Hunton & Williams LLP continues the expansion of its global corporate practice with the addition of Angus Duncan as a partner in the firm's London office. He brings more than 25 years of experience handling complex structured finance and specialty finance transactions.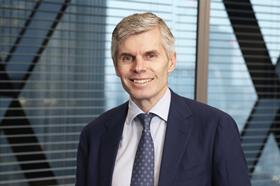 Duncan has represented clients on securitisations and financings involving a range of assets including loans, consumer receivables, real estate and hedge fund interests. He has worked on a number of 'market firsts' including Europe's first CRE CDO, the first European pro rata CLO, the first European CLO managed by a hedge fund and the first catastrophe bond transaction incorporating a tri-partite repo structure. Recently, his practice has had a focus on acting for new entrants to the financial markets, both in the UK and overseas. He also advises on insurance-linked securities, including sidecars, industry loss warranties and privately placed transactions with respect to catastrophe, mortality and longevity risk using the capital markets.
'Angus brings significant experience with UK and EU structured finance transactions and securitisation markets,' said Thomas Y. Hiner, who heads the structured finance and securitisation practice with Michael Nedzbala.
'I am excited to join a practice known for its innovative approach to securitisation and structured finance,' Duncan said.
A graduate of the University of Manchester, Duncan is consistently recognized by industry publications and independent commentators such as the Legal 500 and Chambers and Partners as one of the world's leading securitisation, structured finance and derivatives lawyers. Prior to joining Hunton & Williams, Duncan was a partner with three other global law firms.