Staffordshire solicitors Bowcock & Pursaill has strengthened its team with the appointment of two new conveyancers.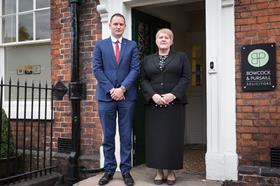 Sam Tolley has joined the firm as a conveyancing executive specialising in residential and commercial property, having worked at a legal firm in Newcastle which specialises in new builds.
Originally from Birmingham, Sam came to the area to study law at Keele and he is now working towards his qualification as a chartered legal executive.
He said: "I'm really happy to have joined the team here at Bowcock & Pursaill as I enjoy dealing with property matters, but I would also like experience in other areas and Bowcock & Pursaill offer the full range of legal services.
"My family are based in Birmingham and I'm a season ticket holder at Aston Villa, but having studied at Keele and enjoyed hiking in the Peak District I was happy to settle here. It always makes me chuckle when people complain about the traffic around this area as it's nothing like as bad as Birmingham!
"Originally I was working in retail, but I've always had an interest in law and I'm looking forward to gaining my chartered status at Bowcock & Pursaill as it is a well-established firm."
Elizabeth Delf has joined the Uttoxeter office having studied law at Staffordshire University and will specialise in residential property.
A former Thomas Alleyne's student and local resident, Elizabeth knows the area well and came to the firm having heard about Bowcock & Pursaill in her previous job.
She said: "I'm really happy to be working in my home town and for an established firm like Bowcock & Pursaill and with such a lovely team.
"The office in Carter Street is 10 minutes from my home and I have a lot of local knowledge which helps when people are considering buying a property in a particular area.
"Most of my clients were based around the Stafford area previously, but hopefully when people realise I'm back practising law I'll see some familiar faces again.
"It's very busy at the moment as everyone wants to complete before Christmas, but also because there's so much development in and around Uttoxeter at the moment as it's such an ideal location."