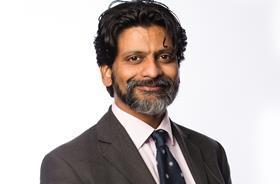 Birmingham-based charity law specialist Shivaji Shiva has joined VWV's 30-strong charities team as a partner.
Shivaji advises staff and board members of charities, and other not-for-profit organisations on the creation of charities, their dissolution, and most of the issues they encounter in between.
He is ranked as a leading lawyer by independent directory The Legal 500, and as a 'notable practitioner' by Chambers & Partners.
Shivaji joins the charities sector team at VWV as a partner from Anthony Collins Solicitors, where he was the charity sector lead. He advises a wide variety of charities and has a particular reputation for advising religious charities, including Hindu, Sikh and Quaker organisations on governance changes and the resolution of internal disputes.
Simon Heald, VWV managing partner, commented on Shivaji's arrival: 'We are nationally recognised for the work that we do with charities, by the independent legal directories, and Charity Finance's annual survey as a leading advisor to the top 350 charities (we have been ranked third for the fourth year running). Shivaji's skills and expertise combined with his passion for helping charities to succeed makes him the perfect addition to help develop our regional and national client base.'
Shivaji commented: 'The expansion of VWV's Birmingham office has created a demand for a lawyer focused on the charity sector. I'm pleased to join a firm with a strong vision for growth and to help develop initiatives that reflect the unique philanthropic history of Birmingham and the West Midlands.'
Shivaji is an active member and former Secretary of the Charity Law Association, a serial charity trustee, and an occasional transport campaigner. He is currently promoting 'Low Traffic Neighbourhoods' to provide people-friendly streets and safer routes to schools in Birmingham.
VWV advises charities of all kinds, from community based organisations to charities operating nationally and internationally. The firm has particular experience in advising faith, healthcare, arts, and education-based charities on their legal affairs, with clients ranging from the Diocese of Gloucester to the Society and College of Radiographers. The charities team also provides support for charities in relation to the increasingly complex area of charity law and regulation.