Vincents Solicitors has appointed Claire Hamilton to head up its Chorley office. A private client solicitor and elderly legal specialist, Claire's arrival will also expand the services offered directly from the branch, complementing the existing residential conveyancing and corporate business.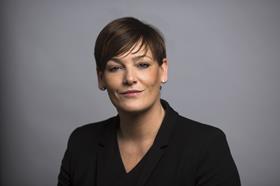 Claire joins Vincents from Kirwans where she developed and grew the firm's Southport branch. She began her law career in 2005, working as a legal secretary in what is now Vincents' Penwortham office.
Claire said: 'I am so pleased to be heading up Vincents' Chorley branch. I am Chorley born and bred but have never actually worked in the town until now, so I am really looking forward to having the chance to make a difference in my own community. I've come full circle since working with the team in Penwortham as a legal secretary, and feel like I've 'come home' in more ways than one.
'As a private client specialist I often see the problems created by the lack of having a will or a Lasting Power of Attorney in place, issues which are so easily avoided by simply having your wishes documented properly in advance.
'I am also a qualified and accredited Solicitor for the Elderly and have a lot of experience in working with older people to resolve worries such as accessing and paying for care, providing for their families and reducing the burden of incapacity.'
In addition to personal private client work, Claire will be talking to business owners about putting measures into place to protect their company in the event of accident, illness or death.
Claire will manage the 10-strong team at the Chorley branch, which opened in 2016 following a merger with Yates Barnes. Corporate and commercial specialists Allan Yates and Sue Barnes have remained with the business, along with their secretarial support Carole Hall, Karon McIntyre and Kim Sowerbutts. Since the merger they have been joined by a conveyancing team comprising June Caunce, Warren Hirst and Emily Eastaugh, and legal support from Tracey Hall
Vincents managing partner Phillip Gilmore welcomed Claire back to the business, he said: 'Our Chorley branch is going from strength-to-strength and we are extremely pleased to have appointed Claire to continue that good work. We are very lucky to have someone of her calibre and expertise to drive the business, and she is an excellent solicitor with a lovely manner that will no doubt put our private client and elderly clients at ease.'