Bringing substantial experience to the Wye Valley office of Harrison Clark Rickerbys inc Shawcross, David King has joined the firm as Head of Private Client services in the Wye Valley and Hereford.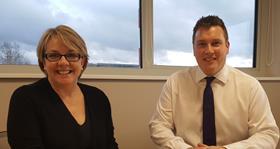 David comes to the firm after heading up a highly successful private client team - his experience includes advising the high net worth clients of a number of high street banks and insurance companies on estate planning, estate administration and trust matters.
Dawn Oliver, Head of Private Client for the firm as a whole, said: "David's appointment is a real win for our clients in the Wye Valley and South Wales who will benefit from his outstanding skills and experience, especially if they want to protect their family's assets."
Heath Thomas, head of the Wye Valley office, said: "Our team here is growing all the time, regularly attracting lawyers from Wales and the borders, who want to live and work locally but provide top-level advice and support for their clients."
David said: "I am delighted to be joining such a vibrant team, which is clearly developing and strengthening in this area. I look forward to working with a wide range of clients, from individuals to charities and financial bodies, to advise them on trusts and estates issues."
Harrison Clark Rickerbys has 450 staff and partners based at offices in the Wye Valley, Hereford, Worcester, Cheltenham, Birmingham, the Thames Valley and central London, who provide a complete spectrum of legal services to both business and private clients, regionally and nationwide. The firm also has a number of highly successful teams specialising in individual market sectors, including health and social care, education, advanced manufacturing, agricultural and rural affairs, defence, security and the forces, and construction.