North-west law firm Harrison Drury has appointed professional services heavyweight Gavin Wright in the newly created position of chief executive officer.
Gavin, a former senior director at Deloitte and BDO, joins Harrison Drury after three years as CEO at Forbes Solicitors.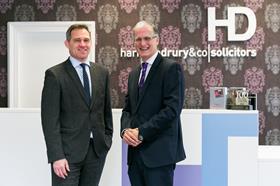 John Chesworth, who took over as managing partner at Harrison Drury in 2007 and has built it into one of the region's fastest-growing firms, becomes executive chairman of the business. John will continue leading the board of directors, developing the future strategy of the firm and helping build stronger relations with existing clients and other businesses.
As CEO, Gavin, who has spent more than 25 years in senior positions in law and accountancy, will be responsible for leading the management team, improving the way services are delivered and delivering the next phase of growth at the firm.
John Chesworth, chairman of Harrison Drury, said: 'This appointment is about leading Harrison Drury into the future and putting in place a management structure to enable growth. Gavin's record in the professional services arena speaks for itself. He has extensive experience of law firm management and developing growing businesses.'
Gavin Wright added: 'Harrison Drury has grown through having a strong and clear vision and a culture to match. I'm looking forward to helping the firm enjoy continued success. My role is to make it possible for John and the board to deliver this next period of growth in line with the excellent values for which it has become known.'
Since 2007 staff numbers at Harrison Drury have gone from 12 in one office in Preston to more than 90 across five offices in Lancashire and Cumbria. This growth has enabled Harrison Drury to offer a wider range of services to its clients, and provide the depth of expertise that businesses need, but hasn't always been available in the local area.
There are plans to recruit between 40 to 60 new people in the next five years as the firm looks to further improve the range and quality of the services it can offer to clients.
John Chesworth added: 'Our vision is to make it possible for businesses in Lancashire and Cumbria to receive the best commercial legal services without sending the work out of the region and to provide an equivalent private client service to high-net-worth individuals. I firmly believe the new management structure we have put in place will enable us to do this.'
The firm was named in the Sunday Times Top 100 Small Companies to Work For list in both 2016 and 2017 and won Law Firm of the Year in the Red Rose Awards 2017.