Needle Mackenzie Spencer has appointed Matt Milnes as an associate, the company's first appointment since the recently announced joint venture between Mackenzie Spencer and Needle Partners.
Matt, a chartered accountant, is a past winner of the Young Dealmaker of the Year Award at the South Yorkshire Insider Dealmakers Awards, and has previously worked for a number of large independent accountancy firms and in the corporate team at Lloyds Bank. He has worked on multiple transactions, including on the buy and sell side, management buy outs and supporting clients with general and distressed funding and business support.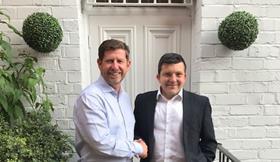 On joining Needle Mackenzie Spencer, Matt said: 'I am thrilled to be joining Chris and his team at Needle Mackenzie Spencer. Having worked with Chris in the past I know that we work well together and our belief in giving clients open and honest advice helps to build strong relationships. I am keen to help Chris to further establish our corporate finance offering in Leeds, Sheffield and the Thames Valley.'
Needle Mackenzie Spencer combines the deals experience of Mackenzie Spencer, with the legal expertise and global resources of Needle Partners to provide a client-centric transaction solution. The company has offices in Sheffield, Leeds and the Thames Valley.