Law firm Primas Law has recruited two new solicitors and a paralegal to its real estate and litigation teams.
Solicitor Katie Hitchen joins the real estate team from SAS Daniels. She has experience in development work, landlord and tenant matters, property finance and other general commercial property.
Katy Williamson, who qualified as a solicitor in New Zealand, also joins the real estate team. Williamson has advised on conditional contracts, development schemes, property finance and general commercial real estate work for developers, housing associations and private landowners.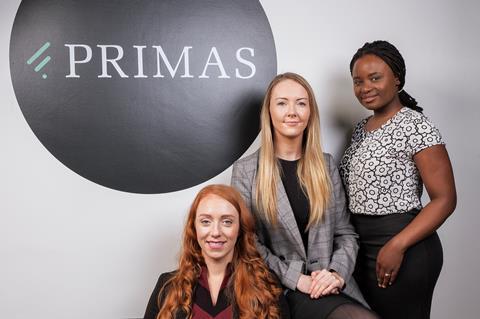 Partner and head of real estate Simon Baxter said: 'We're really pleased to welcome both Katy and Katie to the real estate team. They both add enthusiasm and talent to our already strong offering.'
Paralegal Dammy Osemwenkhae will support the firm's litigation team.
Partner and head of litigation Daniel Thomas added: 'Dammy has already proven to be a great support to the litigation team and we're really pleased to have her join us.'
Osemwenkhae has previously worked in the finance litigation sector, assisting on volume debt recovery matters for banks and financial institutions.
Primas, which specialises in commercial, corporate and real estate law, has offices in Cheshire, Manchester and London. It merged with Manchester-based firm Freeman Fisher last year.