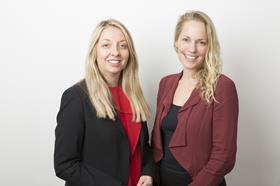 Bedell Cristin has promoted Charlotte Beddoe and Rebecca Stannard to strengthen its senior management team.
Charlotte, who joined the firm in 2016, has been appointed head of risk and compliance. Previously deputy head of risk and compliance, Charlotte has worked in the finance industry for 15 years, predominantly for fiduciary and law firms. She also gained experience in the BVI in a compliance capacity for a large global financial services provider.
Rebecca, who is the new head of marketing and business development, joined the firm in 2016 and has more than 15 years' experience in marketing, communications and business development within the finance industry. She previously worked for two different private equity backed trust companies and a global bank.
Commenting on the appointments, David Cadin, managing partner at Bedell Cristin, said:
'We are always looking to the future and both Rebecca and Charlotte were appointed in the expectation that they would succeed to more senior roles. Since joining, they have demonstrated their management skills and capabilities in their respective fields and I am delighted that they will now take on increased responsibility and join our management team.'