The new president of the Warwickshire Law Society is appealing for more members to help protect the profession against rising court fees.
John French, partner in the litigation team at law firm Band Hatton Button, has been voted in by the society's 80 members until February 2018 and takes over from David Murray of Murray Brankin.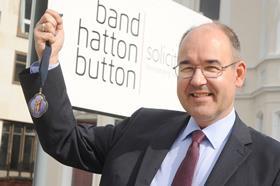 After being sworn in as new president, John is looking to battle various cuts and fee rises imposed by Westminster.
He said: 'The bigger we are, the more impact we can have. This is especially the case when lobbying central government around changes to current laws that are to the detriment of law firms in our region.'
'Cuts to legal aid combined with rising court, probate and tribunal fees means it is becoming more difficult for the average person to gain access to a solicitor… Everyone, irrespective of wealth and background, is entitled to a high quality level of legal advice if they need it and I have every intention of doing everything I can to assist in this process.'
'Equally, the legal industry in Coventry and Warwickshire is really healthy at the minute with more than 100 firms practicing in the area'
'Therefore, we are looking to capitalise on this by urging as many solicitors as possible to come forward and use the society as a platform to raise any concerns or ideas for boosting the profile of the industry.'
'Over the coming months I will be writing to all of the non-member firms in the region asking them to consider joining. Aside from campaigning on serious issues, there are social benefits as well such as the society's ball which is taking place at the Manor Hotel in Meriden on 17 November – so watch this space'
The Warwickshire Law Society was established in 1915 and aims to provide members ranging from new-starters to partners and key decision makers with professional support and representation.
John is the third solicitor from Band Hatton Button to be voted in as president of the Warwickshire Law Society, following in the footsteps of Nick Button in 2011 and Phil Costigan in 2012.
Mark Moseley, managing director at Band Hatton Button, added: 'We're extremely proud to have had different members of staff voted in to such a prestigious position.'
'John is very passionate about the industry and we believe he'll leave the society in a stronger position next spring.'
For more information about the Warwickshire Law Society visit www.warwickshirelawsociety.co.uk.