Specialist employment law firm Brahams Dutt Badrick French LLP (BDBF) has promoted Polly Rodway to partner. She becomes BDBF's sixth partner.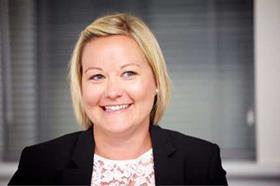 Polly Rodway joined BDBF from RPC in 2013 as an associate.
In line with BDBF's core business, Polly acts for senior executives and has a particular focus on those working in the insurance market and financial services. Polly is also a trusted adviser to employer clients of BDBF and is working with Cerys Williams, recently hired from KWM, to expand this offering to employers.
Polly is an active member of the Employment Lawyers Association and sits on their pro bono committee.
Commenting on Polly's promotion, Gareth Brahams, BDBF's managing partner said: 'Polly has time and again proved herself to be the model BDBF lawyer "diligent and forthright but also engaging and supportive"'.
Polly added: 'I am delighted to be joining the partnership of such an exciting and forward thinking firm. I have seen BDBF go from strength to strength since its inception in 2012, and am excited to work with my fellow partners and colleagues as we continue to grow our business and, most importantly, as we continue to support our clients in dealing with workplace challenges.'