A partner at an Exeter law firm has become the first female Diocesan Registrar for the Diocese of Exeter. Alison Stock from Stephens Scown LLP has been appointed to the prestigious role and will be the legal adviser to the Bishop of Exeter on all matters that affect the Diocese.
The Diocese of Exeter covers the County of Devon and includes over 600 churches and more than 200 clergy. The legal issues are many and varied, and as Diocesan Registrar Alison will advise the Bishop of Exeter on issues including clergy ordination, marriage law, legal authorisation for works to churches and churchyards, charity law, and advising diocesan boards and their lay members. It is a personal appointment by the Diocesan Bishop but one which is regulated by ecclesiastical statute.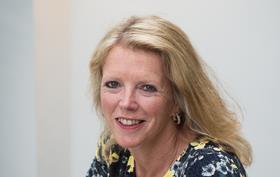 Alison Stock has nearly 30 years experience as a solicitor and joined Stephens Scown in 2015 as a partner.
The Bishop of Exeter, the Rt Revd Robert Atwell, said: 'I am delighted with the appointment of Alison Stock as our Registrar, succeeding Martin Follett. Alison comes with a wealth of experience not only from her current position at Stephens Scown but in her previous roles in legal firms in Truro and Somerset, and has a deep understanding of the life of the Church in the South West. We look forward to her working with us to ensure the flourishing of our parishes, chaplaincies and schools.'
Alison will continue to work for Stephens Scown, but the majority of her time will be spent on her role as Diocesan Registrar. Commenting on her appointment, she said: 'This is such a prestigious appointment, and I'm looking forward to getting started. The Church of England has a vital role in communities across Devon and touches the lives of thousands of people. It will be a privilege to play a part in its work.'
Stephens Scown's managing partner, Robert Camp added: 'Alison is an incredibly talented lawyer and I know her expertise and enthusiasm will be a great asset to the Diocese of Exeter. Everyone at Stephens Scown is very proud of her achievement.'
Stephens Scown has over 290 staff, including more than 50 partners, across its offices in Exeter, Truro and St Austell.