PwC has appointed Teresa Owusu-Adjei as the UK firm's head of legal.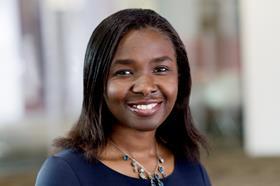 Owusu-Adjei, who has been with PwC since 1995, has spent the last 13 years as a financial services partner.
As head of legal, she will lead over 400 lawyers and other legal professionals in the UK.
Owusu-Adjei commented: 'I am delighted to be asked to lead our multidisciplinary legal service through the next exciting phase of our growth plans. General Counsel and legal departments are undergoing a huge amount of change and transformation which has been accelerated by Covid-19. Our aim remains to focus on those areas that complement the services PwC provides more broadly to bring the best of business understanding, technology innovation and legal expertise to our clients.'
She takes over as head of legal from Ed Stacey who has held the position since 2017.
Stacey added: 'I feel privileged to have had the opportunity to lead our legal business through a period of extended growth both in terms of size, the range and scope of services we provide and the depth and diversity of talent across our business. I'm delighted to pass on the leadership role to Teresa and wish her every success in the role.'
Owusu-Adjei will start her new role on 1 March 2021.