Listed firm Gateley today said its audited results will show revenue growth 'ahead of market expectations', following 'strong activity levels' in the last 12 months.
The firm said its results for the year to 30 April 2022 will show revenue of 'not less than £137m', up by 13% from £121.4m the previous year and above consensus market expectations of £133.5m. Profit before tax will increase by about 10% to at least £18m.
Gateley said activity levels remain strong across its corporate platform, which grew by around 18% off the back of the strength of UK markets for private equity and mergers and acquisitions.
However, its business services platform contracted by about 10%, with the firm said occurred 'as some long-term litigation projects stalled alongside new instructions not yet reaching billing thresholds'.
Gately also said it expects to see organic revenue growth from its legal service lines of around 9% as well as organic growth of about 24% from consultancy service lines.
Audited results, which will be published in September, are expected to show at least £20m in consultancy revenue following three 'earnings-enhancing acquisitions' – which the firm said has pushed annualised consultancy fees to around £32m.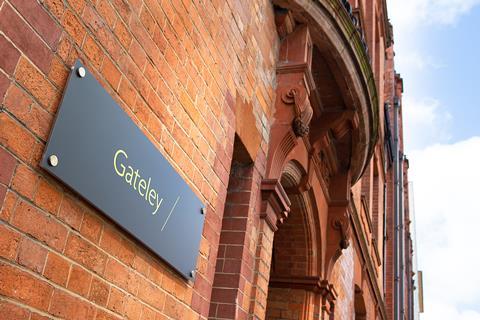 The firm announced the acquisition of multi-disciplinary firm Smithers Purslow in April, following a deal for IP services specialist Adamson Jones in January and the purchase of construction consultants Tozer Gallagher last July.
Gateley also recently reached agreed a £30m revolving credit facility, which provides 'increased funding flexibility to support the group's acquisition strategy'.
It is proposing a final ordinary dividend of 5.5p to take the total annual dividend to 8.5p, up from 7.5p the previous year.
Rod Waldie, Gateley's chief executive, said: 'Our successful return to recruitment generated strong organic revenue growth of over 10%, which, allied to the completion of three exciting acquisitions, is delivering annualised consultancy revenue of over [circa] £32m.
He added: 'We have a strong pipeline of work and leave our financial performance guidance unchanged, despite the inflationary challenges, as we look forward to continuing to grow the group, both organically and via acquisition.'
Shares in Gateley Holdings plc rose by 1p to 213p following this morning's announcement.
This article is now closed for comment.