Digital property platform Thirdfort due to begin trials with an estate agent this autumn.
A digital system aimed at relieving conveyancers of most of the burden of verifying clients' identity and holding client money is due to begin trials with an estate agent this autumn, the system's designers have revealed.
Thirdfort, a 'digital property settlement platform' designed to defeat conveyancing fraud, will perform three key functions, founders Jack Bidgood and Olly Thornton-Berry told an event showcasing 'proptech' innovations.
The first is to carry out identity checks on buyers by matching images of documents with 'selfie' portraits and data held by specialist third parties such as credit-checking firms. This will be far more effective than a solicitor flipping through a client's passport, Bidgood said.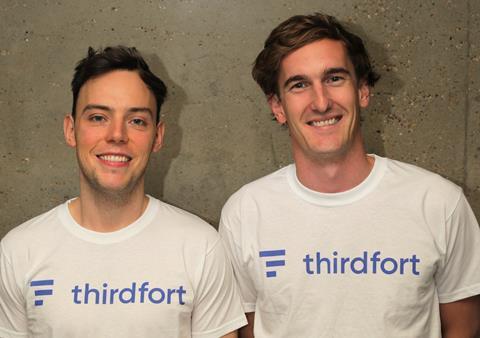 When the transaction is ready to go through, an escrow vault regulated by the Financial Conduct Authority will relieve the conveyancer of the need to hold client money directly. 'They outsource all the risk to us,' Bidgood said.
Finally, the system will enable secure encrypted communications between parties.
Bidgood and Thornton-Berry said they were inspired to develop the system when a friend lost £25,000 in a conveyancing fraud. The team also spent three months at London firm Mishcon de Reya, which this year found itself at the centre of the Supreme Court's judgment in Dreamvar, a case about liability for conveyancing fraud. Thirdfort is now based at the Eagle Lab law tech incubator in West London.
The founders say they have spoken to more than 100 lawyers about the increasing burden of complying with 'know your client' and other regulations, as well as rising insurance premiums.
'With rising rates of fraud, there is less and less incentive for law firms to hold and process client funds themselves,' said Thornton-Berry. 'The cost of administration and the risk of fraud is no longer offset by interest receipts as it was in the past.'
Meanwhile, Freshfields Bruckhaus Deringer and DWF Ventures have been named as the first law firms to join an initiative by the University of Manchester in which an interdisciplinary academic team from its schools of law, business and computer science will look at the potential innovations and impacts of technology applications in the legal sector.