Strike action by the criminal bar would be 'totally unwarranted' now, the lord chancellor told MPs today after announcing that he will invest an extra £135m a year into criminal legal aid.
Industrial action by the criminal bar could begin from 11 April after 94% of 1,908 Criminal Bar Association members voted in favour of refusing all 'returns' under the advocates graduated fee scheme unless the government agreed to a series of steps, including increasing remuneration under the AGFS by 25% per year.
The ballot took place before today's announcement that the Ministry of Justice will 'match' Sir Christopher Bellamy's central recommendation of an extra £135m a year for criminal legal aid.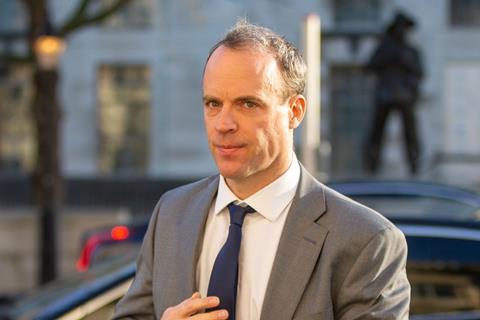 The CBA believes a 15% remuneration increase - which is the minimum that Sir Christopher recommended in his review - is insufficient to retain enough criminal barristers to keep the wheels of justice turning.
Asked about the CBA action in the Commons today, Dominic Raab said it would be 'totally unwarranted for the Criminal Bar Association to now proceed with strike action'.
He later said he hoped the CBA 'will take the more constructive tone we've heard from the other practitioner groups'.
During the debate, Raab said the government needed to follow 'public law principles' and consult for 12 weeks, otherwise we are exposed to a greater risk of judicial review'. Reforms would be introduced via a statutory instrument, which would come into force in October.
Raab's predecessor, Robert Buckland, suggested the government cut the consultation period from 12 weeks to eight. However, Raab replied that shortening the consultation period, 'given the legal risks I have been advised on', did not seem like the right thing to do.