Candidates with reported links to Beijing have been elected to the Hong Kong Law Society's council, amid allegations that rivals were threatened in the lead-up to the vote.
Five candidates were voted onto the representative body's council to lead the 12,000-member association, beating three others reported to be backed by liberal groups. It was reported in the lead-up to last night's vote that another incumbent candidate, the lawyer Jonathan Ross, had withdrawn from the election saying that he was acting 'for my safety, and the safety of my family'.
The vote comes as the Hong Kong Law Society finds itself at the heart of tensions between liberal protestors and the China-influenced governing party of the region. Last week, Hong Kong chief executive Carrie Lam warned the Law Society against 'hijacking' the legal profession with politics and said that if the organisation were to become politicised, the government could sever ties with it. The Hong Kong Professional Teachers' Union ended up disbanding after the government severed all ties with it over its purported pro-opposition stance.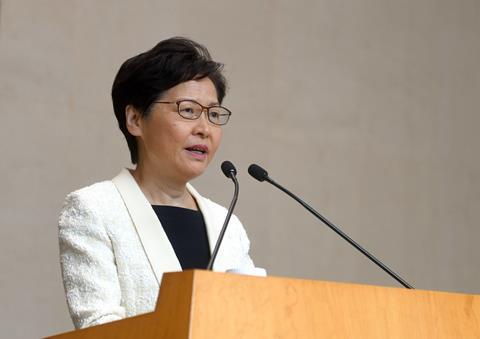 The South China Morning Post today said the five successful Law Society council candidates, Jimmy Chan Kwok-ho, Tom Fu Ka-min, Justin Yuen Hoi-ying, Ronald Sum Kwan-ngai and incumbent Careen Wong Hau-yan, had advocated 'professionalism over politicisation' during their campaigns. The quintet had confirmed they either worked with or had ties to Beijing's liaison office in the city but said those links were not relevant to the election.
Following the vote, Wong said: 'During the election period, in the face of unprecedented challenges and our politicised society, we played our little part in hoping to unite our profession.'
The Hong Kong Free Press said today that the Law Society was now dominated by members with 'establishment ties', the organisation having received warnings from Hong Kong leaders and the China-owned media.
The election was seen as a watershed moment as supposedly liberal members had previously occupied seven out of the 20 council seats and needed to win all five seats available to secure a majority.
Earlier this year, lawyers acting for democracy campaigners were among the people arrested in a crackdown under the region's new national security law, with police raiding one Hong Kong firm. China said it would revoke the licences of two mainland lawyers acting in the case of 12 Hong Kong residents accused of trying to flee to Taiwan.